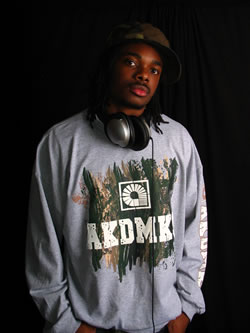 Edwin Wilson a.k.a. "Future," is one of the fastest rising stars in the new Spoken Word movement.

In just his third year of writing and performing, Ed is the 2004 Redemption Poetry Slam Champion - Detroit Region, a nationwide poetry slam contest sponsored by FX Movies, and is a recent showcased artist for the BET Pantene Total You Tour in Detroit and Washington, D.C. He shared the stage during the BET Pantene tour with the talents of poet Nikki Giovanni, hip-hop pioneer MC Lyte, Black Entertainment Television anchor Jacque Reid, Grammy-winner gospel recording artist Yolanda Adams and comedienne Myra J.

Ed has amassed an impressive collection of accolades, awards and championships including winning the Erotic Poetry Slam at The University of Michigan - Ann Arbor as well as being a member of two collegiate slam teams that won the Michigan Intrastate College Team Slam competition. He placed 9th overall in the 2005 IWPS (Individual World Poetry Slam)

Born April 3, 1979 in Flint, Michigan, Ed attended Flint public schools where he was an industrious student and gifted athlete, most notably in football. Ed graduated from Northern High School and went on to play semi-professional football in the metro Detroit area.

Always very creative with words, he never tried to develop those skills due to athletic pursuits. However, with dreams of the NFL behind him, Ed picked up a pen and began a new "Future." In his very first Slam competition, he placed second and missed a tie for first by a mere half point.

Ed is noted for his unparalleled depth, adeptness and agility in imparting knowledge, commentary and humor, and moves and inspires audiences with his unique delivery, vocal projection, prolific writing skills and social consciousness. He speaks with the conviction of a general, the intensity of a middle linebacker and the wisdom of a sage.

Continuously developing his craft and the genre by pushing the boundaries artistically and aesthetically, Ed is laying his own path stage after stage. He is a well-traveled Spoken Word artist having performed in major cities such as Detroit, Miami, Washington, D.C., New Orleans, Nashville, Columbus, Ohio, Houston Texas; as well as in highly coveted venues including Zanzibar, Java Head and Urban Energy (Washington, D.C.), Church Hills (Miami), Redd Apple Gallery, Half Past Three and Chameleon Café (Detroit), The Green Mill (Chicago), Kijiji's (Nashville). He will also be performing on an upcoming nationwide television show called Spoken, scheduled to air in November of 2004 on the Black Family Channel, formerly the MBC Network.

Ed is currently studying Mass Communications and Africana Studies at the University of Michigan – Flint, where he will soon receive a Bachelor of Arts degree. He is active in the Flint/Genesee County community where he devotes his time, energy and talent as a member of Iota Phi Theta Fraternity, Inc.
---
Edwin "Future" Wilson Performance Cities and Venues
Ontario, Canada
Alabama
District of Columbia
Washington, D.C. – Java Head, Zanzibar, Urban Energy, the Tacoma Theatre, Bar Nun, Washington Convention Center
Florida
Miami – Church Hills, Power Studio, The Wall Flower, (Southern Fried Slam 2004)
Tallahassee – MT. Zion (Black on Black Rhyme)
Tampa Bay – Club Fushia (Black on Black Rhyme)
Georgia
Atlanta

Sweet Auburn Festival : May 6-8
Dabomb Platinum : May 18
Illinois
Maryland
Michigan
Ann Arbor – University of Michigan
Big Rapids – Ferris State University
Detroit

The Key Club,
Half Past Three
Steve's Soul Food
Chameleon Café
Café de Troit
Redd Apple Gallery
Club Envy, 1515 Broadway
Hart Plaza
Hockey Town
Meatery Eatery, Fifth Avenue
Saint Andrews Hall
WJLB Radio, 546

Flint

Beans and Leaves
Good Beans Café
University of Michigan-Flint
the Lunch Studio
National Urban League
Courtland Center Mall
Purple Moon Nightclub
Soggy Bottom

Kalamazoo

Western Michigan University

Lansing

Michigan State University

Midland
Saginaw
Southfield

Casbah Night Club, Crème Café

Ypsilanti

Eastern Michigan University, Theodore's
New Orleans
Sweet Lorraines, Ebony Square, Club Caribbean, Hard Rock Café, the Dragon Lounge, the True Brew Cafe
New York
New Jersey
North Carolina
Charlotte

Southern Fried Poetry Slam : June 9-11
July 3
July 21
Virginia
For booking or location information contact Future at 810-449-9897 or by email at the_future@ yahoo.com
Biography provided by Edwin Wilson