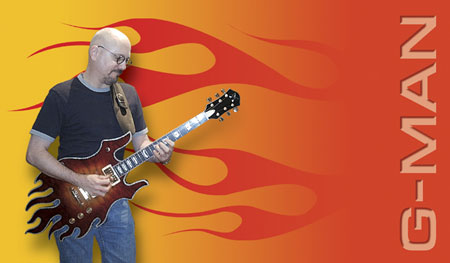 Why Scott G is a legend in his own mind.
THE G-MAN
Genre: Electronic-pop & Trance
Scott G, who records under the name The G-Man, made history by giving his music away on the Internet, encouraging filesharing of his work, and even sending individual tracks to DJs and remixers so they could create new versions of his songs. This resulted in club play, airplay, an indie record deal, a publishing deal, and worldwide press attention.
Scott is a creative director of the National Association of Record Industry Professionals (NARIP), a voting member of NARAS (www.grammy.com), and writes about music for many organizations, including MusicDish.com. His artist and product reviews are found all over the Internet via the Immedia Wire Service.
His songs have been called "Moby meets Bowie" (by producer Pete Anderson) and "Moby meets Devo" (by TV producer Paul Rich).
The G-Man's albums are released by Delvian Records. GRIN GROOVE (2002) and ELECTRO BOP (2003) have been hailed as sonic masterpieces by reviewers, and tracks are being played in clubs around the globe.
In January, 2004, Delvian Records released THE PLATINUM AGE OF THE REMIX, with G-Man songs in dance/trance mixes by Matt Forger (Michael Jackson, Paul McCartney); RD (who took a G-Man remix to #1 in Russia); DJ Insane (who took a G-Man remix to #5 on a European dance chart); and others.
In March, 2005, Delvian is releasing SONIC TONIC, featuring 8 electro-pop tunes and 6 trance tracks. His works are found on iTunes, Digipie.com, 96decibels.com, myspace.com/thegman, and many other places.
He was named Journalist of the Year at the 1999 Los Angeles Music Awards; he received "Electronica Album of the Year" at the 2002 Los Angeles Music Awards and was nominated "Electronica Artist of the Year" in 2003. He won for "Trance Album of the Year" in 2004.
Scott is also the owner of G-Man Music & Radical Radio, where he produces award-winning radio commercials and composes music for both radio and TV spots.
Biography written by Janis Amy Janis Amy