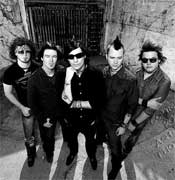 The Oklahoma boys have one simple agenda in mind that is to bring the fun, sing along lyrics and pure party atmosphere back into the heart and souls of all of the die hard rock and roll fans throughout the world.
Hinder says that their songs are more about personal relationships they have been through that everybody can relate to. They also write their songs in a way that there is no hidden meaning and you don't have to think about what they mean because that would just defeat their purpose.
"We don't whine in our lyrics about how our dads treated us like shit growing up," said drummer Cody Hanson. "We are out to have fun and that shows in our lyrics and in our live shows."
Hinder has been on the road touring since May of 2006. Their album "Extreme Behavior" was released September 27 of the same year.
They have toured with such bands as Theory of a Deadman, Faktion, Default and Revelation Theory.
"Revelation Theory was the best tour band," said bass player Mike Rodden.
The band said that things are getting better and better for them as they tour to different parts of the US . They started out doing shows in front of 300-400 people and now they are selling out venues of 1500. Their album is also reaching the 200,000 mark.
Hinder said that they will continue to tour in support of their debut album until mid to late 2007 and then go into the studio to record their sophomore album.
"Being on the road, we have come up with some good ideas for some new songs," said Hanson.
Hinder was formed about four years ago by Hanson and guitarist Joe "Blower" Garvey. They were playing a college party and first discovered singer Austin Winkler. The trio then got together and played a couple of songs and found the basis for the Hinder sound. They got rid of the fourth member and came across the final additions, Rodden and Mark King, and thus became the Hinder line-up we know and love today.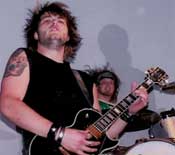 Hinder recorded their freshman album in Vancouver , where they have also spent the last two summers as well.

"We will finally be home for the fourth of July this year," said Hanson.

Being continuously on the road for so long, the members of Hinder have found many things to occupy their free time mostly at Blowers expense.

"We drink anything that has alcohol and do a lot of Jackass shit to Blower like throw him into walls and slap the shit out of him," laughed Hanson.

Blower also laughed as he agreed, but said that it seems like things escalate to more painful things as they go.

Hanson and Rodden both said that if they couldn't make music they would kill themselves.

"I would hang myself with a guitar string if I couldn't make music," said Hanson. "There is no way I am going back to another job after this."

Hinder wants to thank all of their fans for buying their album and coming to the live shows in support of them.

"We love our fans and wouldn't be doing this without them," said Rodden.

Interview by Lori Kerr