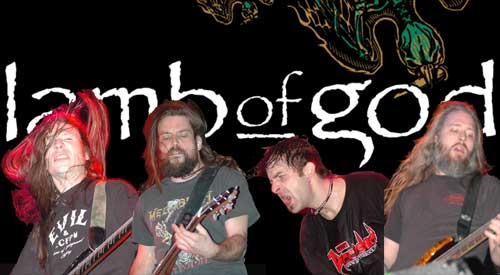 Lamb of God Takes Control As Support for Slipknot
Allstate Arena, Rosemont, IL - March 11, 2005
by Amy Daniels
Upon a black stage a cryptic prayer started off what was to become a fast paced, extreme double bass, in your face lashing of black metal! Lamb of God took over the stage at the Allstate Arena Friday March 11, 2005. A part of the Subliminal Versus World Tour, they were the band to be setting the tone for headliners Slipknot, to take the stage thereafter. Vocalist Randy Blythe belted out a truly demonic sound with a wide range of octaves, keeping up to the ever-changing pace that only got heavier. Out with a new album"Ashes of The Wake," Lamb of God put forth full effort into pleasing the crowd with singles such as"Laid to rest" and"Now you've got something to die for". Together since the early 1990's they were a good reminder of other pioneer metal bands like Slayer for their expansive lyrical usage and Testament to name a couple. Drummer Chris Adler threw down with an amazing biomechanical like ability. The rest of the group kept up with precision timing and a rawness that added fuel to the fire that continued to blaze on for the remainder of the show. Live on stage their adrenaline pumping; high-energy performance had lead man Blythe jumping around randomly across the stage with fellow band mates thrashing away with instruments in hand. Never tiring out, they finished up their set with an older tune of theirs"Black Label" which left the audience chanting for more.
Concert Review by Amy Daniels
Chris Adler, drums
Willie Adler, guitar
Randy Blythe, vocals
Mark Morton, guitar
John Campbell, bass
After writing and recording three independent releases at a deliberate pace, Lamb of God was shocked to finish its major-label debut, ASHES OF THE WAKE, in just five months. The Virginia-based progressive metal quintet agrees this is its most natural sounding album.
"During the 10 years we've been playing together, this band has never stopped pushing the boundaries of what a metal band is supposed to sound like," says drummer Chris Adler. "With this record we allowed our instincts and experience to shape each song as a piece of the larger picture. We let the songs dictate their own direction instead of pushing individual agendas."
Adler; guitarists, Mark Morton and Willie Adler (Chris' younger brother); vocalist, Randy Blythe and bassist, John Campbell spent 7 weeks recording ASHES OF THE WAKE at Water Music in New Jersey and the Sound of Music in Virginia.
Featuring appearances by Megadeth's Chris Poland and Testament's Alex Skolnick ASHES OF THE WAKE is a dark and brooding collection of complex structured metal. The album features the band's trademark thrash on tracks like "What I've Become", "The Faded Line" and "One Gun" but also explores more progressive territory on "Hourglass", "Blood of the Scribe" and the instrumental title track. "Sometimes you can be desensitized by an album when every single song is the same," explains Morton. "This album has a few songs that are built-in reset buttons to refresh your ears before getting back to our 'flamethrower' songs."
To help them create a record true to Lamb of God's heavy past, allowing the band to showcase its intensity and maturing song craft, they cast against type by tapping Machine (Clutch, King Crimson, Pitchshifter) to produce and mix ASHES OF THE WAKE. "It was important for us to step outside the box in choosing a producer" says Adler. "There are the usual suspects in metal production right now that do amazing work, but we wanted to be able to expand on that and not limit ourselves - this is not the sound of metal, this is the sound of LAMB OF GOD. "We like the sound Machine is able to get in the studio, but we really wanted his outsider's perspective," says Morton. "Machine isn't a metal producer per say, and questions and suggestions popped into his head that wouldn't necessarily occur to us. He brought a fresh element to this album that we wouldn't have gotten from someone else."
FROM THE ASHES Lamb of God was not only a headlining act on the Second Stage at Ozzfest 2004 this summer but their first single, "Laid to Rest," from ASHES OF THE WAKE also appears - in demo form - on the Ozzfest 2004 Sampler. The songwriting process for 'Laid to Rest,' illustrates Lamb of God's accelerated creative process for their new CD ASHES OF THE WAKE. "This song came together so quickly it gave us chills," recalls Chris Adler. "Let me put it this way, it can take up to a year for the entire band to agree that a song is finished, but it only took two days for everyone to put their stamp of approval on 'Laid to Rest.' We couldn't believe it then, or now.
LAMB OF GOD does not create the typical "heavy metal" verse / chorus / verse / chorus / solo / outro type of music. The songs are diverse, progressive and intelligent. Songs like the instrumental "Ashes of the Wake" show how wide a net of influence and ability LAMB OF GOD are able to cast. Keeping "a musician's band" aura and credibility and headlining countless sold out shows are two things that don't often run together. LAMB OF GOD is an anomaly to the system.
"We play music that straddles the line between prog and traditional rock," explains Campbell. "I think we make prog-rock more listenable without cheapening the progressiveness of it. The complexity of our music appeals to people who like technical playing, but the arrangements are not so extreme that they fly over the average listener's head. It's a good balance."
The political angst that fueled the lyrics on AS THE PALACES BURN continues unabated on ASHES OF THE WAKE. However, Blythe admits that his plans to write songs about personal responsibility quickly changed. "Mark and I write most of the lyrics together, and at the start of this album we agreed that we wanted to concentrate on internal instead of external politics," he explains. "But as we got into it, considering the condition of the world today, we felt obligated as responsible artists to give accurate social commentary, and that meant writing a few indictments against the powers that be."
Mixing a call to arms with a sneering disdain for the White House's current occupant balances ASHES OF THE WAKE. "In the end, I think the album is stronger because we show the relation between internal and external politics instead of just focusing on one or the other," Blythe says. "These songs are a reality check for everyone because they rail against a wrong-headed government and against the apathetic people that ignore the government and allow it to exist."
ASHES OF THE WAKE captures Lamb of God taking comfort in musical risks. "We'll always be a thrash metal band," explains Morton, "but I'm interested in exploring what we can get away with within the boundaries of the genre."
HISTORY The roots of Lamb of God were planted in 1990 when Morton, Chris Adler and Campbell, were floor mates at Virginia Commonwealth University. The trio began playing at Adler's house in Richmond weathering chilly conditions. "There was no heat at the house," recalls Campbell. "We would freeze our asses off, get really drunk and hang around the kerosene heaters trying to write metal songs. Kerosene fumes and Black Label beer were definitely what fueled our early days."
After graduation, Morton moved to Chicago to pursue a master's degree, but the band continued. A new guitarist (temporarily) replaced Morton as the band retired its instrumental sound and added Blythe on vocals.
The quartet, known then as Burn the Priest, became a fixture in the tightly-knit Richmond music scene. To compete with the high-level of musicianship displayed by their contemporaries, the band adopted a rigid practice schedule. "To this day, we practice five days a week out of necessity," says Campbell. "The bands in Richmond can flat outplay you and if you don't practice, they will blow you off the stage. Bands like Breadwinner and Slanglouse - two local math-metal bands - could play insanely complicated music note perfect. They inspired us to raise the bar musically and taught us the work ethic we needed to be a success."
The band was playing around Virginia when Morton moved back from Chicago and re-joined the group. Soon after, Burn the Priest released a self titled full length album on Legion Records. Morton's original replacement left soon after, which opened a spot for guitarist, and brother to Chris - Willie Adler. A year after the second Adler joined, Burn the Priest changed its name to Lamb of God and signed a record deal with Prosthetic Records. The band's independent-debut, NEW AMERICAN GOSPEL, was released in 2000. "This album was all about creating a rhythmic and pummeling musical landscape with riff after riff," explains Morton.
Two years of extensive touring to support the album raised Lamb of God's profile before the band released the critically acclaimed, AS THE PALACES BURN (2003). ATPB won record of the year honors in such notable Magazines as Revolver and Metal Hammer while garnering mainstream press in Rolling Stone and Entertainment Weekly. "This album was the ying to the fist records yang. Blazing and technical speed metal the way it should be done," says Chris Adler. "Each album is a snapshot in time of who we are and what we are able to do, individually and as a band - we continue to grow and Ashes of the Wake is no different - except for the fact that we have never been better than we are right now at making seriously kick ass music."
The band hit the road again and began headlining tours before signing with Epic Records. In the fall of 2003 Lamb of God was a co-headliner on the first ever MTV's Headbanger's Ball tour which elevated Lamb of God's profile beyond the underground. As it entered the studio to record ASHES OF THE WAKE, the band released "TERROR AND HUBRIS," a DVD featuring live performances, videos for "Ruin" and "Black Label" and behind-the-scenes footage highlighting the work ethic, humility and sense of humor of one of the most respected and influential bands around today. The DVD proved to be a commercial success as it entered the Billboard Music DVD Charts at #32. With the studio behind them and endless touring in front of them, Lamb of God ready for the August 31st release of ASHES OF THE WAKE, a record which will be sure to redefine the landscape of extreme music.
Biography courteys of Lamb of God Official Web Site