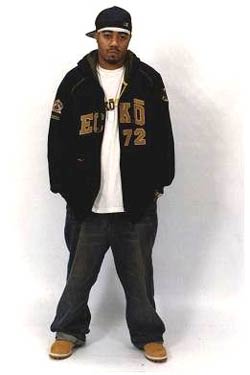 It's that Platinum Hip Hop...You can look at his name and tell he belongs on this site - It's TREW.
Trew Dat (a.k.a. Johnny Bravo, aka Trew) ain't your ordinary hip-hop front man - he's got beats in his blood. Born Jay Crockett, Trew has thrived as a writer, rapper, poet and versatile musician in the hip hop scene of Virginia. Trew's background as a drum major and accomplishments on both the piano and trumpet earned him the prestigious John Phillip Sousa award for outstanding musicianship, and his command of rhymes and rhythms has brought him to the next level of underground hip hop.
Regional airplay on commercial radio and club spins of his most recent 12" have industry heads turning. His newest tracks with Grammy Award winner, Ski, caught the attention of Luthor Filmworks, who will be featuring Trew in their new documentary "Hip Hop L'Amour."
As if you didn't already know, Trew is doing BIG things. The second video from the VA icon is right here at TEG Dot Com - he and Derek Lucas have teamed up to bring you "Groove Theory."
The first video from the legend in the making, Trew hits you with "International Playa" [Video Available @ Truth Entertainment Group]
Check out the new track from Trew called "On and On" - produced by Kleph Dollaz. The video is set to be shot in Miami, Florida on May 27th and 28th. For more information contact Truth Entertainment Group.
Biography courtesy of Truth Entertainment Group