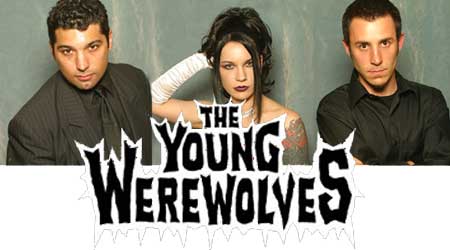 Clawing their way out of Transylvania, errr...Pennsylvania, The Young Werewolves have unfolded the true roots of Rock 'n' Roll.
Playing their own brand of Psycho Pop Rock 'n' Roll-a-Billy, this three piece rocker band will call out the creature in all who dare to infect their ears. By mixing the styles of classic hot rod Rock 'n' Roll to outlaw punk rock, The Young Werewolves have created a timeless sound guaranteed to make you howl along and strut your stuff.
The band began in early 2002 when three wandering musicians met in the city of Philadelphia. The time is kept by Jonny Wolf who pounds on his 3 piece stand up drum kit. Walking the veins on her bass guitar is Shewolf Dana K. Completing the trio is Wolfman Nick Falcon who fires lead and rythym guitar on his 6 string hollow body. Each werewolf shares vocal and howling duties.
The Young Werewolves have been called rockabilly, psychobilly, punkabilly, surf rock and everything in between. You decide for yourself. With influences ranging from The Ramones, Elvis, The Misfits, Buddy Holly, Stray Cats, The Monkees and The Cramps, their sound is quite unique.
And while the band is still growing, The Young Werewolves have already left quite a scratch. Starting off playing the Philly night club circuit on weekends, The Young Werewolves have expanded to open for national acts and hit prominent clubs in Lancaster, Baltimore, and New York City.
So listen up boys and ghouls, load your guns with those silver bullets and beware of the Full Moon, cause The Young Werewolves are comin' to your town soon.
Biography Taken from The Young Werewolves