!link rel="stylesheet" href="http://unratedmagazine.com/assets/css/video.css"> <!script src="js/modernizr-2.5.3-min.js">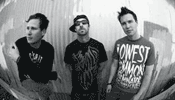 Mark Hoppus, Tom DeLonge, and Travis Barker
Blink 182
OFFICIAL STATEMENT FROM BLINK-182
Hi. We're blink-182.
This past week there've been a lot of questions about the current status of the band, and we wanted you to hear it straight from us. To put it simply, We ' re back. We mean, really back. Picking up where we left off and then some. In the studio writing and recording a new album. Preparing to tour the world yet again. Friendships reformed. 17 years deep in our legacy.
Summer 2009.
Thanks and get ready...
Press release Feb 2009