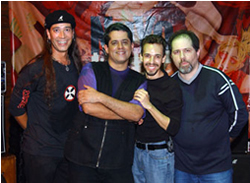 Jean Cabbie & the Secret Admirer Society is a pop/rock group based in San Juan, Puerto Rico. "Good Things," the band's first full length cd release, is the result of a series of studio sessions done at Spellbound Studios which is one of the main independent music recording studios in the Island. All the songwriting is done by Jean Cabbie with musical arrangements done by The Secret Admirer Society.
The members of the group are Juan Cabrer a/k/a Jean Cabbie who does the lead and backing vocals and plays rhythm guitar; Eric Cabrer plays lead guitar and backing vocals and the collaboration of José Vila on drums and percussion. Additional backing musicians help is provided by Ricardo Marin on bass and Danny Donate on drums. Mixing elements from American and British musical influences, "Good Things" includes the following songs: "Shine by Me", "Dirty Old Money", "Gonna Take You Higher" and "Rated-R", amongst other selections included in this album.
For the "Good Things" cd release the group have done extensive college radio promotion in the United States, Canada, Hawaii and the Virgin Islands where the band had the opportunity to do more than 50 station ids' for radio stations that played selections from the cd and added at 83 college radio stations in the referenced areas. "Good Things" was also given light, middle and heavy rotation at some of these stations. Other promotional efforts includes internet radio promotion at The Bud & Nancy Show at Web Radio Puget Sound, Live365, Boom Box Radio, Yellow Beat (Japan) and New Artist Radio, newsletters and banner promotions (www.galaris.com) and international catalog promotions (IRL Music and Australian Music Marketing Abroad/MIDEM 2004). Jean Cabbie & the Secret Admirer Society has its own home page which can be accessed at the following address: www.jeancabbie.com. The home page includes biography, information regarding recordings done by the group, career development news, links to the band's video and musical previews of upcoming releases.
Currently, Jean Cabbie & the Secret Admirer Society is recording new songs for its next album which is expected to be released during 2005. The songs included for this release are the following: "Red Blue Skies", "Do", "A Certain Madness", "Everything", "Sweet Victoria", "Truth, Consequences & Me", "Live Your Life Or Else" and "Till I Belong To You".
You can Contact Jean Cabbie & The Secret Admirer Society
NOVO RENAISSANCE RECORDS, INC.
P.O. BOX 19-3893
SAN JUAN, PUERTO RICO 00919-3893
PHONE #: (787)753-8914 Ext. 2064
E-mail: cabbie65@hotmail.com
Biography written by Jean Cabbie