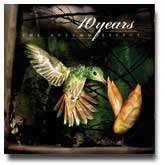 From a band that wants "people to think, [and] to feel emotions again," Knoxville natives 10 Years have given us The Autumn Effect to tease our musical minds and get the wheels turning. Jesse Hasek's voice, Brian Vodinh's coffin-tight drumming, Lewis Crosby delivering the dark bass combined with "Tater" Johnson and Matt Wantland on the guitar provide the framework for 10 Years. This Tennessee quintet uses its 12-song debut on Universal to deliver an August '05 release that makes you think, feel and hear the music. Mix in an ounce of Staind, a dripping tablespoon of Tool and a heaping cup of The Deftones to consist of the savory 10 Years recipe. These guys have grown up as friends and musicians and that couldn't be more apparent then on their powerful sophomore release.
Topics such as love, depression, anger, confusion and amazing dreams are clearly spelled out on this album. The album-titled twelfth track is actually the description of Jesse Hasek's elaborate acid-like translucent vision. Personally, I enjoyed "The Recipe" and it's telling insight into love and infatuation. While starting out slow, it delivers a catchy beat and an upscale, direct chorus. Look also to the opening track "Waking Up" for what I would consider to be the next single on this album. Not only is this the ideal song to preface this album with, but it acts as the dictionary definition to the sound of 10 Years.
This record is a "can't miss" in my book. I wish I could separate them from the band comparison above but that description rings true. Pick up The Autumn Effect and feel the emotion for yourself. Maybe the guys from 10 Years will even make us imagine and realize passion again.
Song of the album:
"Wasteland" – With an unhurried start and a continuous beat, this song about addiction also delivers perfectly placed vocals by Jesse Hasek to get the point across. You will feel the conflict, aggression and frustration rolled up into a tight radio edit. This is the highlight not only because it's the first single on the album, but because it truly is the best cut. In my opinion, its remains as one of the better songs played on the radio today. Whatever you do, don't fall into the trap of being blinded by this song's success. The Autumn Effect offers so much more that you wouldn't want to let pass by!
Track List

Waking Up
Fault Line
The Recipe
Wasteland
Seasons To Cycles
Half Line
Through the Iris
Empires
Prey
Insects
Paralyzing Kings
The Autumn Effect
**10 Years is currently on the road with Korn and Mudvayne in support of The Autumn Effect. I will be interviewing Lewis Cosby (bass) from 10 Years at the March 30, 2006 show at Allstate Arena, Chicago, IL, USA. Got questions for him you'd like asked? Email me at Tim @ unratedmagazine.com with your name and I will do my best to include them!
RELATED RESOURCES