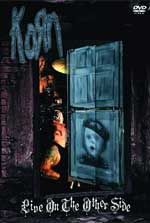 If you're looking to capture the essence of a current live Korn performance, then "See You Live On The Other Side" is a raw fan perspective that will provide exactly what you're looking for. This DVD is jammed full of Korn classics and was shot from the fall 2005 radio stint as opposed to the assumed "See You On The Other Side" 2006 Spring tour. As James "Munky" Shafer puts it, this is your first opportunity to see Korn as a "four piece" act. Tagged with a rated 'R' label, this 130 minute look into the Hammerstein Ballroom performance of the Bakersfield, California bunch gives fans a heavy dose of the classics with a sprinkling of the new sound with "Liar," "Twisted Transistor," Hypocrites" and "Coming Undone" included. Clad in his leather Adidas pants, Jonathan Davis delivers with the same high level of intensity fans receive at every live Korn performance. With this their fourth DVD (Deuce, Live, Live at CBGB), the city of New York has become a playground for recent Korn live performances. At a suggested retail price of $19.99, this DVD isn't loaded with extras but also isn't filled with mindless crap either. Targeted at the true Korn fan and concert enthusiast, "Live On The Other Side" gives you just what you want and nothing more.
In my opinion, this DVD is a value and a "must have" for any real Korn fan. The focus is an insight into the guys moving forward without Head and it demonstrates a new page being turned in the Korn music catalogue. Loaded with unique angles and perspectives, the video coverage takes you up, down and through Hammerstein with a focal point on the raucous and dedicated fans that make going to a Korn show such an intense experience. Even as the guys play on a no frills stage setup (that appears to be a transitional setup between the Greatest Hits album and See You On The Other Side), we are treated to some little "extras" such as a sweet jam session before "Somebody, Someone" and a very raw, stripped-down version of "Twisted Transistor."
The bonus features get a C- in my book. The 37 minute chapter titled "See You On The Other Side" gives clips and coverage of their infamous plane concert with MTV Europe winners and military personnel. For some mysterious reason a repeat live showing of "Got the Life is played in the middle of this video clip. Interesting, but not spectacular by any means. The chapter titled "See Who's On The Other Side" gives you a quick meet and greet with the Korn guys and the behind the scenes crew. Touring crew members stress their loyalty and give praise to band members. Once again, interesting, but no surprises.
Set List:
Intro
Here To Stay
Twist
Got the Life
Liar
A.D.I.D.A.S.
Coming Undone
Dirty
Falling Away From Me
Twisted Transistor
Did My Time
Shoots and Ladders
One
Freak On A Leash
Another Brick In The Wall/Goodbye Cruel World
Blind
Somebody Someone
Hypocrites
Y'all Want A Single
Bonus Features:
See You On The Other Side
See Who's On The Other Side
Coming Undone Video
---
RELATED LINKS