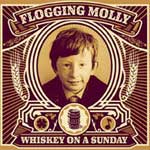 If you've ever liked anything you've heard from Irish-infused rock band Flogging Molly, you will love this very intimate look at their band, their world travels, and the happenings that have shaped their lives. It is a story that can only be told by the band members themselves, and that's exactly how the DVD is set up. This DVD and CD set are must haves for any Flogging Molly fan. The DVD runs through live footage, interviews with the band and fans, and provides a very personal look into their lives. The CD includes 5 live recordings, 4 acoustic songs, and one brand new studio track!
Every band member loves being a part of this band whole-heartedly, and they understand what their music does for their fans. The refreshing thing is that they do not see themselves as any different as their fans. As bass player Nathan states, "Our music is not for just one group/one identity... it is universal and all about celebrating life." While they have a tough time being on the road and being away from their families, they believe so much in 'their cause' and what they do on an everyday basis that they learn to deal with their travels. The fans help them during their busy touring schedule and almost act as their family while they are away from home. Lead singer Dave King was exiled for 8 years from Ireland and could not be at home with his mother and friends, so it taught him to play music that reminded him of his homeland and home-life, and to use instruments that would celebrate his Irish heritage and culture.
Record companies were scared to sign them to a record deal because their sound was so different. But that's what their fans love! The record companies told Dave not to use such 'odd' instruments in his music, but then along came Side One Dummy Records. They knew that Flogging Molly was a must-sign band from day one because of what they brought to the table. They had so much enthusiasm for the music they made, their magnetic lead singer bellowed out moving lyrics, they showed so much energy and emotion on stage, and they produced such a wonderfully unique sound.
I can tell you that their concerts are the best live shows I've ever seen. There is so much enthusiasm from the band and the crowd alike, and people show such positive emotion when rocking out with Flogging Molly. This DVD shows plenty of live footage and the passion that they and their fans pour into every show! When you see them live, it is so moving it's like a spiritual-awakening.
If you want to experience the raw emotion of Flogging Molly, I suggest you pick up this DVD and CD set to get your Flogging Molly fill until the next time you get to see them live.
RELATED RESOURCES