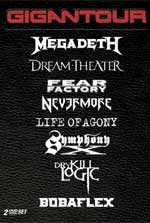 "This is a tour," said Megadeth front man and the conceptualist of Gigantour, Dave Mustaine, "for people who love the guitar solo."

…As is this musical conglomeration of highlights of 2005's Gigantour, one of the top music tours last year. This two-disc DVD is a loud, in-your-face, and yet – lighthearted – showcase of not only Megadeth, but all the diverse bands Mustaine invited to join him for his metal festival.

Segments between each group show band members talking about how they came to be on the tour, and Mustaine also elaborates on how he came to choose the bands. Bobaflex, for example, was chosen partly because Mustaine's son is a fan of the group.

Mustaine not only comes across as the metal-head Megadeth fans know and love, but also the well spoken and intelligent man who brainstormed his project, and is so much more than just the long haired guy sneering over his guitar.

Some exceptional moments on the DVD include…

Bobaflex performing 'Better For Me' – A nice blend of harmonies combined with a raw, crushing power. Bobaflex is also as entertaining to watch as they are to listen to, as each member gives a unique and colorful performance.

Dry Kill Logic's union of classic thrash with a contemporary sound performing 'Paper Tiger' and 'Lost.'

Nevermore doing 'Born' – Overflowing with a heady dose of top-notch metal guitar licks. And during 'Enemies' there are several shots of the feral mosh pit.

Symphony X's Russel Allen remarked about Gigantour: "We just knew we need to do this." 'Inferno' and 'Sins And Shadows' showcased the bands Yngwie-ish guitar and keyboard parts, and put on a show of solid, traditional metal.

Life Of Agony really shows that they've got the goods. 'Day He Died' with it's concise grooves and modern sound. And during 'Love To Let You Down,' Life Of Agony's vocalist, Keith Caputo , is practically crawling out of his skin on stage, but there's no doubt this guy is going to take this band to the top.

Video game superstars - Fear Factory - doing 'Transgression' and 'Archetype,' and pounding out the metal with authoritative aggression.

Dream Theater's 'Glass Prison' and 'Panic Attack.' What can possibly be said about Dream Theater that's never been said before? Their performance, as per the norm for this band, is the culmination of a group of musicians each on top of their game, all working in unison and running like a high performance hot rod whilst never coming up for air.

And the man of the hour – Megadeth's Dave Mustaine and company performing 'She Wolf' - proving that you don't have to unleash guttural screams in order to rock. Also, goose bump inspiring audience participation in 'A Tour Le Monde,' in addition to 'Kick The Chair.'

Disc Two is loaded with interviews, back stage footage, and practical jokes. There's also an informal Pyro 101 course with the pyrotechnics dude, tours of the band's buses, and a tribute to Dimebag Darrell. Scenes from the Gigantour softball game critiqued by Major League Baseball hottie Mike Piazza – which resulted in the auctioning off of the uniforms to benefit The Mr. Holland's Opus Foundation, an organization which supports music education.

There are also snippets of the Anthrax guys on and back stage, and giving Mustaine a personal performance in his dressing room in honor of his birthday. Sadly, there are no full-length songs by Anthrax included on the DVD.

Saying this DVD is a must for any metal music fan is a bit cliché, but it's also a huge understatement.
---
RELATED LINKS: