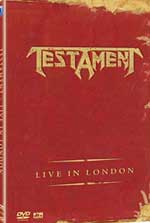 Though Testament skyrocketed to thrash/metal heavy-hitters in the mid-80's and made a respectable name for themselves, their history is riddled with adversity.
With a revolving door of line-up changes, oscillations not only within the music industry but also regarding the sound of whatever is considered 'in' this week to the next, even vocalist Chuck Billy's battle with, and triumph over, cancer – the 2005 London crowd couldn't have been more ecstatic to welcome Testament's original line-up to the stage.
Highlights of this DVD include an overwhelming opening performance of 'The Preacher' while singer Chuck Billy leads the change for the mob in the audience going insane with excitement.
Followed by 'The New Order' and then 'The Haunting' each song flows into the next like a soundtrack to any metal-head's life.
During 'Electric Crown' with it's meaty groove the security desperately tries to contain the mayhem in the audience.
'Sins of Omission' features axe-master Alex Skolnick jamming his heart out. And Greg Christian rolls out 'Souls of Black' with his funky bass chops.
Throughout the show, each time vocalist Billy calls to the crowd the response is so thunderous it's like a roar from the Gods. During 'Into the Pit' Billy challenges the audience to 'show what they've got' – and they don't disappoint, growing even more frenzied than before.
By the time Testament feasts on 'Trial By Fire' drummer John Tempesta is dripping wet bashing himself into oblivion. Then for the second set, Louis Clemente takes over on the drums adding renewed energy to the show though it was hardly lacking.
'Practice What You Preach' - now vintage Testament metal, is performed at it's finest and just as energetically as when the song was new. 'The Legacy' is hauntingly soulful, and the band wraps up the show with – as anyone would expect – 'Disciples of the Watch.'
The film quality is brisk and brilliantly colorful with good sound quality, and bonus features include interviews with band members – past and present.
Even music fans that aren't huge Testament fans can enjoy this show, but for the die-hards out there, this disc will be an essential part of their collections for years to come.
---
RELATED LINKS