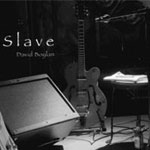 When I hear this guy live I begin to wonder if it really does take money to make it big in the music industry. An everyday man with lyrics that amaze even the "hip" college kids at the local college in Boulder Colorado. [C.U.] Why they thought they knew what was cool, they're from Ca.!
From Semi-Charmed beginnings in the silver spoon shrink infested town of Boulder, Co. Dave's first band was the "Lawn Boys" playing for frat and sorority parties at the age of 17.
This Album, "Slave", in my opinion is not his best, but it is a statement of endurance and resolve, combining the liberties of full fledged rock-n-roll abandon("Slave","Last Knock","Lucky Shoes") with the wry musings and grainy sentiment of the more traditional singer-songwriter ( "Elizabeth","Twistin in the Wind","Fist Full Of Wine") His best work is "Carnival Sessions", but try to get a copy of that!
Dave Boylan's latest studio time wrought forth an eclectic yet stylish and persistent example of the diverse and vibrant work of art that flow in the tradition of other solo artists like Ryan Adams and Paul Westerberg.... Check out "SLAVE", the name itself a dichotomy.
RELATED LINKS