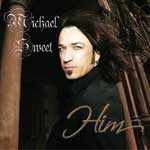 If there's one thing that Michael Sweet is known for, be it through his solo albums or through Stryper records, it's his ability to rock and to praise God concurrently. With a voice that's both angelic and powerful – Sweet's provided the goods for both listening audiences, the heavy hitters via Stryper tunes, and the more mellow, devotional songs he's released independently.
With his new album, Him , Sweet has done something completely unique and innovative this time around. An entire record of traditional hymnals that were chosen by how deeply each touched Sweet lyrically, but thoroughly restructured and arranged musically. Some of the songs Sweet hadn't even heard the original versions of at the time of recording.
The result is a lovely combination of worship songs done in a contemporary, classy manner to be expected from anything with Michael Sweet's name on it.
"Calvary" is hooky and modern sounding with a driving acoustic guitar. As always, Sweet's voice alone has the ability to make one feel closer to God.
"Every Hour" has a gentle melody bursting forth with devotional sentiment.
"I Know," which was originally entitled "I'm Not Skilled To Understand" is light and fresh. A song you wouldn't even realize was a Christian song if you weren't listening to the lyrics.
"Alleluia," originally "Christ Our Lord Has Risen Today," is upbeat with uplifting harmonies and a catchy groove.
"I'll Remember You" is tender and incandescent; hauntingly beautiful.
"Gilead" wafts out your speakers with a subtle power.
"Still" has almost a lullaby quality. Sweet's vocals fluctuate back and forth - sometimes crooner, sometimes songbird.
"Take My Life," which was originally "Take My Life And Let It Be," is a precious and delicate song of love. Quite simply the epitome of a prayer set to music.
"Surrender," a timeless proclamation of faith with a modern sound.
And the classic, "Oh Holy Night," probably one of the best known faith songs around – backed up by harmonizing angels, Sweet breathes new life into this song with resplendence and grace.
Him is a priceless recording to be enjoyed by not only Sweet or Stryper fans, and not only Christian music listeners. Extremely well arranged and produced, this collection of songs will become a classic recording to be enjoyed by anyone who appreciates quality music.
---
RELATED LINKS