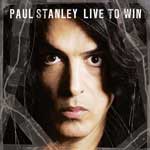 It might seem a pretty daunting task to release your first solo album after more than 25 years, not to mention only your second solo record ever. But if there's anyone out there who knows how to write and put together a good album it's Paul Stanley – frontman extraordinaire and half the brain of Kiss, the mega-famous group who's sold more than 100 million records worldwide.
The aptly titled long-awaited release, Live To Win, was woven by Stanley as a labor of love. Without the need to rush through the creative or recording process, Stanley put this album together the way one would expect of this sapient artist. Though self-produced, Stanley collaborated some of the song writing with Desmond Child – known as 'Midas' in the music industry for his ability to make songs he's contributed to turn to gold, and also Marti Frederiksen, Andreas Carlsson, and John 5. A collective bank of talent that has backed up hits by artists such as Bon Jovi, Aerosmith, Ricky Martin, Marilyn Manson, and Britney Spears. Former Kiss guitarist, Bruce Kulick, makes an appearance on the album as well.
The first song is also the title cut, "Live To Win," a quintessential rock anthem. It's hooky with powerful rock guitars and a hard-hitting force. Stanley is Rocky Balboa, Stanley is the hero that's just pulled a child from a burning building, Stanley is the stellar performer who proves that he has nothing to prove.
"Lift" has got a hypnotic grove with crisp vocals and soaring sentiment.
"Wake Up Screaming" is poetic with a funky under-melody, and utterly catchy – you'll be singing along without even consciously trying.
"Every Time I See Your Around" is the type of love song only Stanley can write. Slightly reminiscent of the Kiss song "Forever," "Every Time I See You Around" showcases the weight of unresolved feelings, having moved on but still holding on – and the beauty and tragedy of it all.
"Bulletproof" is a tough tune, excellently produced with a ballsy guitar solo - written the way a solid rock song should be.
"All About You" is a sexy, heavy-hitter, and "Second To None" is an unabashed ballad with tender vocals.
Timeless rocker, "It's Not Me" is quite simply solid and quality rock which refuses to cow to current trends.
"Lovin' You Without You Now" is a heartfelt declaration of affection.
And the album wraps up with "Where Angels Dare," much like "Live To Win" in the sense it's another proclamation of strength and of taking life by the horns.
As deep and diverse as its creator, Live To Win acts as a window into Stanley 's life and heart and soul. Like the man, this record is a shade of Kiss but it's mainly a reflection of the multifaceted world outside of Kiss. And so completely worth the wait.
---
RELATED LINKS