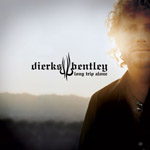 Dierks Bentley, another star to come out of the country music mecca that is Nashville, originally resided in the great state of Arizona. He was introduced to country music very young, and he shows on this disc that he understands all that country music is, where it came from, and how it evolved. His new disc "Long Trip Alone" jumps right out of the gates with the standout, feel-good hit, 'Every Mile A Memory.' Dierks Bentley picks up the tempo a few notches, and gets rockin on the second song with 'Can't Live It Down'

This could be one of the best country discs this year, and very well may be Dierks' best album yet. With the heart of a lion, and the energy of a man possessed, he brings out the raw emotion that we all feel on an everyday basis. On the 5 th song of the CD, he gives us a serenade-type special with 'Soon As You Can.' The CD also features plenty of catchy choruses for both you and your pals to sing along to. Between energy-ridden songs that are great for partying with your friends, or slow-jams that are to be shared with your significant other, he covers all aspects on the proverbial emotional spectrum.

The catchy, radio-friendly possible next single could be 'Heaven I'm Headed To.' It has enough heart to carry its way to the top of the charts while still paying enough attention to something everyone thinks about at sometime in their life. Dierks' new disc 'settles for a slow down' and takes you through a valley-like lull, before picking you back up to a peak for the last couple of songs...almost reminiscent of the landscape in his home state of Arizona.

He sings about his 'country roots' and playing smaller venues in Nashville and beyond with his song 'Band Of Brothers.' The last song on the CD, 'Prodigal Son's Prayer,' is a toe-tappin, hand-clappin masterpiece that makes for the perfect ending. With the likes of deeply heart-felt lyrics of Keith Urban, and the islandy feel of a Jimmy Buffett classic, put those two together, and you've stumbled upon Dierks Bentley's new CD "Long Trip Alone."
---
p>RELATED LINKS