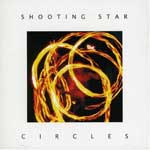 Originally formed in the late 70's, Shooting Star has been everywhere, worked with everyone, and somehow still manages to slip through the cracks. The adjective 'underrated' is an utter understatement when it comes to these stellar muscians.
After break-ups, reunions, and personnel changes, Shooting Star is still holding on; luckily. Their 2006 release Circles might be reminiscent of some classic rocks favorites like Journey and Kansas , but there's no reason why this album can't hold it's own. Quality rock and roll will still be here when emo fades away.
Some of the highlights of this album include:
"Everybody's Crazy" - a jazzy, upbeat rocker with not only top-notch guitar parts but a piano boogie-woogie which all blends together sans musical toe-stepping.
"Temptation" - a gentle and sensual song with great harmonies, and "George's Song" - a tender ballad with dreamy, heartfelt imagery.
"Borrowed Time" slips over your skin with a funky, sexy groove. And"Without Love" and "What Love Is" are both moving testaments to the power of music.
The star which shines the brightest on Circles, however, is "I'm A Survivor." A quality tune with mega-hit potential. Flawless guitar parts backed by a solid and catchy rhythm section whilst vocalist Van McLain belts his heart out with the power Journey's Steve Perry had in his prime.
Ten songs total, sturdy tunes written by a band who simply knows how to put good songs together. Wrapping up Circles is the six-plus minute "We're Not Alone" – an uplifting rock and roll anthem.
You know you've heard of Shooting Star – now it's time to give them a listen.
---
RELATED LINKS