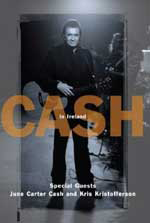 After Walk The Line was released on the big screen, suddenly people who had never taken notice of Johnny Cash before were becoming fans. Yet despite the new Cash converts, Johnny Cash"s appeal goes decades back to his beginnings, and lasts today beyond his death.
In Walk The Line we saw Cash during his turbulent youth, struggling with drugs, fame, and an unsuccessful marriage. The movie ended as Cash finally got his girl, June Carter, whom we know, he married, lived and made music with - until her death in 2003 parted these two soul mates.
Now, in 2006, we get to see this never before released concert of Johnny Cash joined by June Carter and The Carter Family, and Cash and Carter's son John Carter Cash. Performed at the Olympia Theater in Dublin and recorded for Irish television, this 1993 performance shows Cash as an older star appearing to be having a blast on stage with his family and fellow musicians. The Irish audience couldn't have been happier to see this American country music legend in person playing some of his biggest hits, like "Folsom Prison Blues," "Ring of Fire," "A Boy Named Sue," and "I Walk The Line."
As Cash crooned "Ghost Riders In The Sky" the Dublin audience joyously chimed in for the cowboyish chorus, convincing enough to make one think this concert was actually being performed at Nashville's Grand Ole Opry.
Fellow country legend Kris Krisofferson then joins Cash on vocals and acoustic guitar for "Long Black Veil" and "Big River."
As Cash brought June Carter Cash back out perform their ever popular duet, "Jackson," he introduced her lovingly as his "favorite performer," then the couple playfully danced and flirted while belting out the classic fan favorite.
For "Forty Shades of Green," Irish popstar Sandy Kelly joined Cash on stage along with Kris Krisofferson and the Carter Family. Knowing now that both Johnny Cash and June Carter Cash are have left us, it's a treat to watch them on stage again – doing what they loved most, holding each other's hands, and seeing the sheer pleasure on the faces of this Irish audience. A love story doesn't have to be simply about two people, it can encompass thousands – and Johnny Cash's appeal is a testament to how much a man and his music can be loved.
Other songs included in this concert are the peppy "Daddy Sang Bass," "Keep On The Sunny Side," "Georgia On A Fast Train," "Get Rhythm," the forlorn "I Still Miss Someone," "Wabash Cannonball," and "Will The Circle Be Unbroken."
I was 6 years old when I met Johnny Cash at a bookstore in Nashville Tennessee. I remember him towering over me, clad entirely in black as anyone would have guessed, and with one of his meaty hands he gently waved down at me, this little girl who stood before him not really knowing who he was. A have that one brief, fuzzy memory of this musical legend, and am grateful now for concerts such as Cash in Ireland which help adorn our memories and keep him alive in our hearts.
---
RELATED LINKS