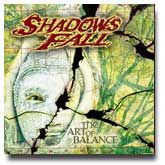 Shadows Fall new release "The Art of Balance"

" The San Francisco based Shadows Fall just put out their latest studio release in late September 2002 called "The Art of Balance" by Century Media. Shadows Fall are laying the bricks as the true thrash metal contenders on the open circuit. Holding the title now for several years and are not stepping down.

Showing they are strong and true to the heavy metal with exploding true style guitar riffs, heart bounding bass chords, rolling drums and powerful vocals of the thrash of yesterday. Shadows Fall is straight up tight in sound!

"The Art of Balance" is brutal in nature and holds you to your seat on a true thrash metal ride. Ripping clear sharp guitar, evident bass chords, rolling drums and hard-core vocals that would make a voice teacher proud. You can put Brian Fair (vocals) at the top of the list with other great thrash icons of the 1980's when the onslaught and roots shaped thrash.

Shadows Fall together are precise in all expectations in musical metal sound with great classic thrash solo as seen in "Idiot Box" and vocals of true metal thrash as heard on "Destroy the Silence"

Thrash metal is alive and well in the U.S.A. As much metal we see coming from Europe we have new metal icons in the making with Shadows Fall.