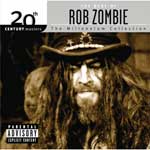 He's a walking horror movie – and has even made a couple of his own. And most people know the second they hear that slick gravelly voice that they're listening to Rob Zombie.
We've come to know each of the 20th Century Master Millennium Collection releases as a quality grouping of favorites by some of music lover's most beloved, like KISS, Motley Crue, the Scorpions and many more. The Rob Zombie edition is another first-rate reserve of rock and roll.
The disc kicks off with "Thunder Kiss '65," probably one of the best known of Zombie's tunes. A song one simply can't get sick of listening and grooving to. Then the album moves into the aggressively upbeat "Black Sunshine."
Followed by "More Human Than Human," the ballsy "Super Charger Heaven," and the metal-meets-techno "Dragula."
There's also the aurally monstrous "Superbeast" followed by the funky "Living Dead Girl." Another danceable rocker - "Never Gonna Stop (The Red Red Kroovy)," and the sexy and macabre "House Of 1000 Corpses/Unholy 3."
Wrapping up the collection is the feral "Feel So Numb," Zombie's hypnotically creepy "The Devil's Rejects," and lastly, "The Lords of Salem."
Every day can be Halloween if you're listening to the right zombie.
---
RELATED LINKS