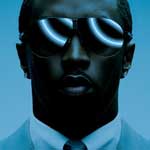 Declaring this will "probably" be his final solo CD, Sean "P. Diddy" Combs holds nothing back (tackling personal trials in his life) and pulls out all the stops (enlisting super producers Just Blaze, Timbaland and The Neptunes) on his new release "Press Play." But even all that and guest appearances (Christina Aguilera, Mary J. Blige, Jamie Foxx, Keyshia Cole, Nas) rivaling one of his extravagant parties can't save this final effort from being dismissed as a compilation of uneventful, sometimes forgettable songs.
The first two singles: "Come to Me", featuring pop princess Christina Aguilera, and "Tell Me", featuring sex kitten Nicole Scherzinger from the Pussycat Dolls, give fans what they have come to expect from Combs: infectious beats and catchy hooks made for the clubs and repetitious FM airplay. But from there the CD is filled with more misses that hits.
The dull and immature "The Future" showcases his lack of growth as a artist and dispels any hope Combs will ever be known for his rhymes with lyrics like: "I'm Grammy certified the committee can pick me now, And they all green with envy like Bill Bixby, Bow down, kiss the tip of my cane, I paid sixty thou' You know the suit stay crispy now."
He seems out of his element on "Special Feeling" (a rip off Prince's "I Would Die 4 U") and the synthesizer heavy "Wanna Move" (feat. Big Boi, Ciara, and Scar); and the mimicking SexyBack track "Diddy Rock" (featuring Timbaland and Chicago MC's Shawnna and Twista) would have fared better without him.
Combs recovers slightly by limiting his vocal contribution on the Kanye West produced "Everything I love" featuring hip hop veteran Nas & Cee-Lo;"Last Night" (feat. Keyshia Cole) another Prince inspired track; and when he gets personal on the ballads "After Love" and "Partners For Life" (feat. Jamie Foxx ) where he expresses his appreciation to the dedicated woman in his life and promising an end to the turbulence in their relationship.
While Combs should be commended for stepping away from his usual practice of heavy sampling and experimenting with new sounds and techniques in the end, fans may be a little disappointed when pressing "play" because he didn't save his best for last.
Track Listing:
Testimonial (Intro)
We Gon' Make It
I Am (Interlude)
The Future
Hold Up
Come To Me (feat. Nicole Scherzinger)
Tell Me (feat. Christina Aguilera)
Wanna Move (feat. Big Boi, Ciara, and Scar)
Diddy Rock (feat. Timbaland, Twista & Shawnna)
Claim My Place (Interlude feat. Avant)
Everything I Love (feat. Nas & Cee-Lo)
Special Feeling
Crazy Thang (Interlude)
After Love
Through The Pain (She Told Me) (feat. Mario Winans)
Thought You Said (feat. Brandy)
Last Night (feat. Keyshia Cole)
Making It Hard (feat. Mary J. Blige)
Partners For Life (feat. Jamie Foxx)
---
RELATED LINKS