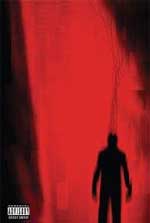 If a photo captures a moment, a blip in time, an image of something that would otherwise be forgotten, then the upcoming Nine Inch Nails DVD release grabs ahold of your hair for over two hours (122 min.) and force feeds you one of the best tours of last year. Sure, Trent (Reznor) has shaved his head and, dare I say, cleaned himself up a bit since the 2002 release of And All That Could Have Been . But, NIN fans, don't be fooled in the least bit by the new product. This nineteen song live performance captures the pure essence of not only their highly successful recent tour, but the May 2005 studio album release of With Teeth .
Before I dive head first into the actual shows that are encapsulated within Beside You In Time , let me first give you a sneak peak into the awesome extras. Also known as Halo 22, "Beside You In Time" is NIN's third DVD release that is set to hit stores on Tuesday, February 27 th . Contained within the extras are an amazing image gallery of the band from the recent tour. This is not stock photography. Rather, a live image reel of top notch concert photos taken throughout the tour. Look closely, you might even be in one of them. Do you deem yourself to be an old school NIN fan who prefers to see Trent with the long hair? Well, you'll get your wish with this as well. "Love is not Enough," "The Collector" and "Everyday is Exactly the Same" are shown as footage from 2005 rehearsals. In addition, videos of "The Hand That Feeds" and "Only" appear under the Additional Content tab.
The most unique feature on this DVD is the Body of Work listing. Every NIN release (audio and video) is highlighted by showing album artwork, the release year, a short description, the discography and a clip of selected songs on certain audio offerings. This body of NIN work is organized by "Halo" numbers 01 through 22.
So, if the trailers have teased you long enough, you only have to wait a few more days until the official US release. El Paso , Texas and Oklahoma City , Oklahoma were the lucky two cities that this masterpiece was recorded live in. If you purchased And All That Could Have Been , you know that NIN probably put out about the best live concert DVD there is. So, if you haven't already burned up that disc, you can still give your DVD collection a steroid injection with Beside You In Time . Even better, only seven (yes, seven) of these songs overlap with the set list from And All That Could Have Been . Alternate angles, closed caption on-screen lyrics, HD resolution and Dolby 5.1 surround sound are all stuffed into the following A-list performance:
"Love Is Not Enough"
"You Know What You Are?"
"Terrible Lie"
"The Line Begins to Blur"
"March of the Pig"
"Something I Can Never Have"
"Closer /The Only Time"
"Burn"
"Gave Up"
"Eraser"
"Right Where It Belongs"
"Beside You in Time"
"With Teeth"
"Wish"
"Only "
"The Big Come Down"
"Hurt "
"The Hand that Feed"
"Head Like a Hole"
This list contains eight songs from With Teeth, one from The Fragile, four from The Downward Spiral, two from Broken, three from Pretty Hate Machine, and one standalone single ("Burn", originally released on the Natural Born Killers soundtrack; also released on The Downward Spiral Deluxe Edition ). Quite the arrangement by Trent and the boys. Even better than that are the different angles you can watch "Eraser," "Right Where It Belongs" and the self-titled track "Beside You In Time."
After going to two shows (Chicago, Milwaukee) on this tour myself, I can tell you that this DVD captures the powerful thrashing that any recent NIN perfromance provides. The set list is dead-on from the tour. My only minor knock is the omission of one of my personal favorites "Sin" from this piece of work. Trust me, if you're worried about a let down from 2002, there are no shortage of broken guitars and jumping on keyboards. More importantly, the graphic imagery and overall style are classic NIN right from the start. This is no pedestrian concert DVD from "some show" in "some city." Be advised:This is Nine Inch Nails. If you saw even one song live from the 2006 With Teeth tour, this DVD will immediately bring you back to that moment you were caught asking yourself, "just how the hell does he continue to do that?"
Oh, and after you wipe the swet from your brow, get ready for Year Zero to be tentatively released in April 2007.
---
Special thanks to Melissa Bethune. Questions? Email me at Tim@unratedmagazine.com
---
RELATED LINKS