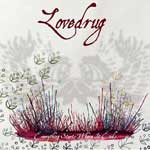 You wouldn't think that such catchy and hard-rocking choruses could come from such sporadic beginnings, but it works with the raw sound that Lovedrug generates. On their first new disc in 3 years, Lovedrug is releasing Everything Starts Where It Ends on March 6, 2007, and is setting their sights on big things. There is no reason for this indie-rock quartet from Ohio not to, because they have made music that will catch people's attention. This disc starts slowly in the first song, 'Happy Apple Poison,' and you think – this CD that is going to put me to sleep. But then Bam! It wakes you up abruptly and shows that lead singer Michael Shepard's raspy voice can keep you intrigued while offering music unlike what many others have produced lately. It may be hard to believe, but distorted sounds, guitars, and vocals together generate a clean, crisp finish that is quite agreeable to the senses.
With chilling sounds occasionally sneaking their way out of the background of these tunes, it keeps your ears keen and attentive as to the overall sound Lovedrug is trying to portray. Michael Shepard's voice has similar soothing qualities to that of Maroon 5's lead singer, Adam Levine, with a funky touch of Coheed and Cambria 's lead singer, Claudio Sanchez, while being as gruff and expressive as the lead singer of The Mars Volta, Cedric Bixler-Zavala . Shepard sings with a trembling voice in many instances, giving their music a deep-seated passion that adds vast impact and clarity to the lyrics. In 'Thieving,' Lovedrug slows things down for an emotional piano-laden ballad which makes for one of the best tracks on the new disc. There are a couple of slow downs, but this one will stick out in the minds of fans, because of the great balance with the accompanying strings in the background, along with the prominent foreground piano.
A musical mix between bands like Mae, and with the change of pace that Brand New throws at you, Lovedrug has pieced together a wonderfully unique album, and one that will leave you wanting more. Everything Starts Where It Ends seems to portray a love-hate relationship, as with their band name, but the different styles fuse together so flawlessly, and this wonderfully distinctive sound is one that should bring label 'The Militia Group' some much deserved notoriety. I think many would agree that this band is one that will help to propel, both themselves and others around them, to great heights.
Lovedrug consists of lead singer and guitarist Michael Shepard, guitarist Dave Thomas Owens IV, bassist Korey Christopher Jones, and drummer James Childress.
Everything Starts Where It Ends:
Happy Apple Poison
Pushing The Shine
Castling
Thieving
Bleed Together
Dancing
Ghost By Your Side
Casino Clouds
Doomsday & The Echo
Salt Of The Earth
American Swimming Lesson
Everything Starts Where It Ends
---
RELATED LINKS