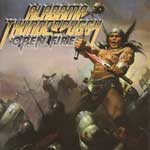 Alabama Thunderpussy returns with a new vocalist.
Who would ever think that a band that goes through vocalists like they go through their underwear would actually make it long enough to release 6 albums! Alabama Thunderpussy has managed to do this, and in March of 2007 they released their 6 th album Open Fire. The band's new vocalist is Kyle Thomas, and regardless of a lot of singer changes in their 11-year career, ATP has produced a great rock album with Open Fire. I am a huge fan of rock albums, and before hearing Open Fire; I had never really given ATP a thought to adding them to my wide array of rock albums. Sure I've heard of these guys and wondered about them (who couldn't wonder about them, I think their band name alone sparks curiosity!), but I had never really listened to any of their albums before their newest CD release. This album overall, however, is a great rock album, and regardless of their bio on their website and Myspace stating that they have a "punk rock edge", I really would not distinguish ATP as a band that sounds anything like punk. If anything I would say these guys sound more like 80's rock than they do punk.
In ATP's album Open Fire, the album opens up with "The Cleansing" which gives the album a great start since there is some strong drumming in this song and it helps get you in that head banging, rockin' out and conquering "all" mood. The song "None Shall Return" starts off strong and fast with heavy guitars and drums and Kyle screams about false un-sincerities. In the song "Whiskey War" Kyle belts out "Don't want to hear your lip no more, its whiskey war." This song has an awesome guitar solo and for anyone who has felt like they could do anything when drinking the heavy stuff, such as whiskey, you will truly enjoy the lyrics to this song. I would have to say my favorite song is "A Dreamer's Fortune" because of the lyrics. This song is about greed and in the chorus Kyle belts out "If you don't cheat your destined to fail. Dreamers spend their fortunes before they're worthy". To me this song seems to speak to me about people in a position of power, and how they can take advantage of this. In the song "Valor" some of the overall instrumental work reminded me of Iron Maiden's last album "A Matter of Life and Death", especially with the guitar solos. The last song of the album "Greed" ends the album nicely with awesome guitar work and this is definitely a song where Kyle truly shows his guttural vocal side.
As a rock fan, I do recommend this album. It has a nice overall beat and I like the pureness in the lyrics spoken. Currently ATP is not touring, but be sure to check their website www.ATPRVA.com for upcoming news on the band.
---
RELATED LINKS