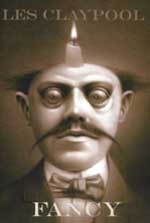 Not even close to being as visually maddening as Primus' DVD Blame It On The Fish, Les Claypool's solo concert DVD, Fancy - "Live Summer 2006 - A Fan's Perspective," showcases him at his finest – live, and from his adoring audience's point of view.
Joining Claypool for this tour was a musical powerhouse of performers; Skerik on saxophone and Mike Dillon on vibraphone, marimba, and percussion – both of Critters' Buggin' and Garage a Trois, the fascinating Gabby La La on sitar, ukulele and theremin, and Paulo Baldi, of Cake fame, on drums.
Compiled from the concerts in cities Austin, New York, Cleveland, and Boston, each song on this DVD is a grand, wacky, wild, and ingenious jam session. Only Les Claypool can perform song after song of controlled chaos; he is an animated instruction manual of stellar musical knowhow - showing what else is all possible, what kind of sounds can be made, and just how normal 'main stream' rock and roll is in contrast.
"Up On The Roof," kicks off the collection in its bouncy, funky spendor. Followed by "Of Whales And Woe," " Rumble Of The Diesel," and as Claypool switches to a long-necked acoustic bass they kick into "Long In The Tooth."
Then "Vernon The Company Man," which starts out with a Middle Eastern-type sound enchanced by the sitar, and almost an African rhythm before crescendoing towards a wicked climax. Next up are " Holy Mackerel," "Phantom Patriot" in its dramatic albeit subtle outrageousness, and then the aurally spectacular " Cosmic Highway." Aside from the classical genre and some rich, precise jazz pieces, Claypool is one of the very few musicians who can write music so full sounding without resulting in an overload of the senses.
Before hammering out " Filipino Ray" Claypool shared an amusing story with an enthusiastic Boston audience about his lunch that day at the Sausage King. Then enchanted Cleveland with the boppy, almost nightmare-soundtrack-ish "The Big Eyeball In The Sky."
Wrapping up with an encore of: "Running The Gauntlet," "American Life," " Iowan Gal," and the song Lespool described as the 'scrotum of the album Of Whales And Woe,' "Lust Stings."
Scenes also feature views of the audience feverishly singing along and dancing, and lots of nice close-ups of Claypools fingering and slapping techniques.
In a special feature section of the DVD entitled Fancy Banter, is a string of on-stage out takes from the tour – including a particularly humerous one of Lespool reading an audience member the riot act after this individual threw a beer can up on to the stage. I've seen Henry Rollins go to town on a fan for doing the same thing during his August 2006 Rollins Band show at the House of Blues in Chicago. Here's a clue to concert goers: If the person on stage with the mic is really intelligent and quick witted, hold on to your beer cans or you'll quickly and publically be handed your ass by the person you paid money to come see.
---
RELATED LINKS