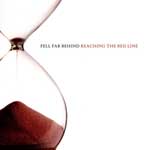 Fell Far Behind might be the name of this five-piece Jersey band, but they're actually right on the mark with their progressive sound and contemporary, high-octane drive. If you're into bands like My Chemical Romance you'll love Fell Far Behind.
Having just won the national Garageband.com / Verizon Wireless "Face Off" competition, Fell Far Behind is quickly gaining on already established, nationally renowned household names with their own massive following that just keeps on growing.
Reaching The Red Line is the band's second full-length independent release, but don't worry if you've missed the first one, Reaching The Red Line is going to knock your socks off. They're labeled as a punk/emo band and even though the lyrics might be emo based the vocals are far more poppy-punk – and there's none of that vexatious screaming going on, thankfully.
Produced by Chad Blinman who's previously worked with Face To Face, Saves The Day, and The Get Up Kids; the recording and production of this collection of songs is crisp and full-sounding without being aurally overbearing. A perfect balance of controlled chaos and esthetically pleasing symmetry.
Kicking off this eight-song disc in a really big way is the "Old Too Soon Smart Too Late," a high-spirited tune with crystal clear vocals and a grooving guitar drive.
"For Now Goodnight" is the perfect song to drive fast to. Vocalist Hak has got the perfect range to make himself heard regardless what's going on musically yet without sounding strained. In addition to some powerful harmonies there's also a cool bass line.
"The Antidote" is a radio hit waiting to happen, followed by the angst ridden "Miss Hyde."
Although the vocal style remains consistent with the other tunes, "Coming Down" has got more of a metal feel to it, musically, with heavy, melodic guitars and a heady rhythm backbone.
Other songs on the disc include: "On Love And Loathe," "Testing The Waters," and "Close For Comfort."
Though not quite the over-night sensation that some are penning Fell Far Behind to be, they're still fresh and exciting – voracious, fledgling rock and rollers – a band to watch from here on as they conquer the music world.
---
RELATED LINKS