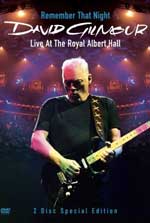 Leave it to veteran rocker David Gilmour to walk onto the stage and instantly fill a concert hall with an abundance of goose bump offering sound.
Remember That Night - Live from the Royal Albert Hall special edition double DVD set begins with a no-nonsense, visually stunning light show while getting right down to business beginning with Pink Floyd classics, ""Speak To Me, "Breathe (In The Air)," and "Time," then recapitulating into "Breathe (In The Air)."
Switching gears then to some newer material Gilmour wails sweetly into "Castellorizon," and then is joined by David Crosby and Graham Nash for "Out on an Island ." Crosby and Nash, who are masters at harmonization, do so perfectly with Gilmour – creating an emotional and dreamy feel while everyone on stage simply looks like they're having the time of their lives.
There are no fireworks or bombs going off, there's no sparkly-spandex wearing guitarist running from one side of the stage to the other – what this show is, however, is utter entertainment built on nothing but sheer musical authority.
Crosby and Nash remain on stage and join Gilmour for the song "The Blue," another performance full with a rich and soothing melody, and a soulful type of guitar solo that Gilmour is famous for.
Changing up from the guitar to a saxophone for "Red Sky at Night," Gilmour's playing is jazzy and passionate. Back on the guitar, Gilmour then kicks into the bluesy tinted "This Heaven."
Another guest performer, Robert Wyatt, comes out with a gentle yet commanding accompaniment of "Then I Close My Eyes."
On the acoustic guitar, Gilmour croons the song "Smile," then turns up the heat for the heavier and pulsating "Take A Breath."
Changing the mood once again for the anthem-link "A Pocketful of Stones," then flowing into delicate tune "Where We Start."
And where most bands might have wrapped up the show after this full of an evening, Gilmour instead breaks for intermission, then steps back out on to the stage with the promise of even more eminent music to come.
Starting out with the chilling and familiar notes of "Shine On You Crazy Diamond," the notes undulate throughout the venue, then crescendos to where the rest of the band joins in, and Crosby and Nash come back out to augment the backing vocals.
Gilmour goes on to effortlessly belt out tune after tune of amazingly fulfilling music. "Fat Old Sun," the aching "Coming Back To Life," the powerful "High Hopes," and "Echoes" – the kind of song that fills a grand theater like the Royal Albert Hall the way it was meant to be filled.
Followed by "Wish You Were Here" majestically performed with all the greatness and emotion it was written with.
Crosby and Nash come back out again for the brief "Find The Cost of Freedom," and then trading places with Crosby and Nash David Bowie comes out for the lead vocals on the stirring "Arnold Layne," and then joins Gilmour for a dynamic duet of "Comfortably Numb." Shots of the audience show the crowd awestruck during Gilmour's sensational guitar solo.
Disc two, which is the bonus disc, includes more songs from the Royal Albert Hall show – "Wot's…Uh The Deal," and "Dominoes." Also "Wearing The Inside Out" "Arnold Layne," and "Comfortably Numb" featuring Richard Wright. Three different documentaries, performances from various tours and sessions, music videos for "On An Island" and "Smile," and a photo gallery. One of the documentaries captures the trails of tribulations of trying to put on a concert in Venice and how a little thing like water can cause numerous problems.
The total running time of both these discs is five hours and 13 minutes. There's a whole lot of music on David Gilmour's Remember That Night - Live from the Royal Albert Hall, and though watching it in its entirety might be a little heavy both these discs are to be cherished by the David Gilmour and Pink Floyd fans of the world, but also anyone devoted to quality, timeless music.
RELATED LINKS