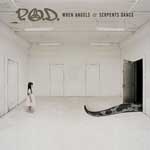 P.O.D. slithers on with When Angels and Serpents Dance
Boom! On April 8, 08 the original line-up of the multi-platinum and Grammy nominated band P.O.D. will release their new 13 song CD. Known for leading the pack in their metal-reggae-rap sound, Angels shows P.O.D evolving in musical growth with adding more traditional singing in many of their new tracks. Signed now with Columbia Records, from the moment you hear the opening chords of guitarist Marcos Curiel (yes, he is back) you can feel the raw and intense energy emerge. The opening track Addicted is a winner with the vocals of Sonny Sandoval punching out lyrics like, Why do I love you when I know/Love you when I know/ You are wrong/You are a liar!
Kaliforn-Eye-A is another fist punching song with guest musician Mike Muir of Suicidal Tendencies helping out on vocals.
Other stand out songs include the reggae sound of I'll Be Ready , which includes background groans and sighs of The Marley Sisters (daughters of legend Bob Marley) that take this song into new dimensions. Heavy hitter God Forbid ignites with the help of Page Hamilton from the hardcore/punk band Helmet lending his mammoth vocals to produce the heaviest song on the new CD. But you can not overlook Shine With Me with its addicting lyrics and alluring emotion as Sonny sings; So come and shine with me/Like the beautiful star you are/ Shine On Shine On Shine on!!
Passionate, relentless, raw, and real, When Angels and Serpents Dance is P.O.D. at its best.
For more information on their upcoming tour and to order their new CD check out: www.payableondeath.com
---
RELATED LINKS