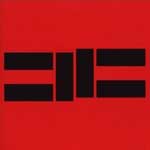 Like many metal fans, I have longed for the reunion of the Cavalera brothers for quite some time. I would have preferred that this happen as an original lineup reunion of Sepultura, but Cavalera Conspiracy is the next best thing. For those who have also enjoyed Sepultura and Soulfly albums of the past, you really should check out the new Cavalera band and their Roadrunner Records release, Inflikted.
I was wary that this album would start out strong and later get boring, similar to a few Soulfly albums. The first song, "Inflikted" begins with a screeching windup and then delivers distinct riffs with the signature Max Cavalera screaming vocals beginning all at once. Lyrics do get very repetitive right away, in typical Max Cavalera fashion, but that has never bothered me. Besides, Marc Rizzo swoops in with an interesting solo.
"Sanctuary" is definitely the best song on the album, containing Arise -like guitar riffs and an amazing drum build up that I have not heard from Iggor Cavalera for some time. Iggor's great drumming talent is also showcased in the song "Hex". Fans of old Sepultura, and I'm talking Morbid Visions, Bestial Devastation and Schizophrenia, will enjoy the thrashy, very fast drums on "Hex". Max's son Ritchie lends his vocal talents to the pseudo Biblical "Dark Ark". His very deep growls and screams are a nice compliment to and change from Max's scream. Although many of the songs on Inflikted contain good, unique solos, the riffs are fairly uncomplicated and juvenile. I really feel like Rizzo could do better. However, "Bloodbrawl" contains some beautiful instrumentals to illustrate his guitar playing skills.
There is a lot of change on Inflikted . Each song is able to stand on its own, which can be a great thing, but in forming an album, it can become confusing. Inflikted needs a common theme. I can understand that Iggor and Max Cavalera are excited to be playing together again and ended up just throwing everything into one 'pot'. For a fan of Sepultura, Soulfly and the Cavalera brothers it was very exiting and interesting to hear this album. And the best part is that the majority of the material is excellent. And I for one am very glad Max and Iggor have patched up their relationship and are making music once more. I hope this is not the only album we see from Cavalera Conspiracy.
Cavalera Conspiracy is planning a tour in Europe this June and July. Keep your fingers crossed that they storm through the U.S. later this fall. That will be the real treat.
---
RELATED LINKS