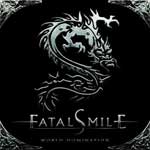 I first encountered the Swedish band Fatal Smile in February 2008, when I was reviewing the live W.A.S.P. show in Toronto. Perhaps because I only caught the last song of their set, I was more focused on "first impressions count" so, I dismissed them as no more than an 80'/90's looking band of yesteryear. Big mistake!
The second time I saw Fatal Smile was a month later when they returned to Toronto on March 25th, 2008 as the Special Guests of Doro. This time I paid attention!
They are touring Canada and America to promote their newest and 3rd CD titled World Domination, on Locomotive Records. Produced by guitarist Y and mixed by Michael Wagener (Metallica, Ozzy, Motley Crue, Skid Row) The 10 tracks will attest that the metal bands of days gone by have spawned an offspring. And it's powerful.
It's been too damm long since the scene has been rocked by a provocative band who are confident enough in their abilities to wear their debauchery pins just because they can! Blade (vocals), Y (guitar), Alx (Bass), and Zteff (drums) all possess a look that reckons them to Post Nuclear Roadwarriors of a Mad Maxx era. BUT...looks aside...Fatal Smile is not a glam band. Quite the contrary. Proving it's possible to fire up a chain saw, grab you by the throat, roll you in mud, and you'll still want more. These guys are musicians with an incredible alchemy.
Blade's vocals are non aplologetic, naked and gritty. He has a sublime aggressive style. I don't want to compare him to anyone because I think he has a distinct vocal sound that takes control without losing on melody. He works well against against Y's intricate guitars that are layered with dynamic, ball busting chords and tempered lushness. The rhythm never lulls and you won't want it to. World Domination delivers good solid hard rock that invokes.
I could review each and every track, lick, riff, melody song by song but I won't. (that's too Rolling Stone) What I am going to tell you is buy World Domination and listen to it. It kicks non -- stop. I am confident you will agree that the time has finally arrived for a new heavy weight to reclaim it's place in a league that has had an open seat for too long.
The Buddist term of Rebirth means -- " belief that some essential part of a living being survives death to be reborn in a new body." The new body is Fatal Smile.
SOB
STRANGER
PRIMED & READY
TOO FAR DOWN
NO TOMORROW
OUT OF MY HEAD
RUN FOR YOUR LIFE
FATAL SMILE
STRAIGHT TO HELL
EVE OF WAR
---
RELATED LINKS