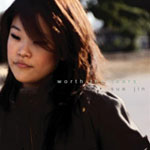 Although an anthropology major in college, Los Angeles nightingale Sue Jin decided instead to spread her wings in the world of music. And the result of which, Jin's six-song EP entitled Worth The Tears proves to be well worth the listen.
Recorded at Kiyoshi Graves Studio in L.A., singer/songwriter Graves co-produced Worth The Tears with Jin, and backed Jin with his guitar know-how as well.
Sue Jin opens up the disc with "We Could Be," a smoky and soulful tune meant to be crooned such as this rather than simply sung. Jin powerful pipes tug at your emotions while Graves' guitar solo wails with a strength all its own.
Followed by "Your Own Angel" – an up-beat song which almost hints at a slight gospel sound. Then title cut "Worth The Tears," as the name suggests, is a delicate ballad which Jin weaves tenderly - almost giving this song the feel of a lullaby.
"Find Me Now" - a hypnotic and gentle melody accompanying Jin's sweet serenade. And "Not Enough" is a bit more on the poppy side, but Jin's singing is as robust as ever.
Wrapping up the disc the angelic sounding "If I Could Change." An aurally stunning tune where Sue Jin is backed by a simple piano melody, and she wails as only a true songstress can.
In as few as six songs, Jin demonstrates versatility and talent which make her a force to be reckoned with. The first listen to Worth The Tears will captivate the senses, and leave one aching for whatever is next to come from Sue Jin.
---
RELATED LINKS