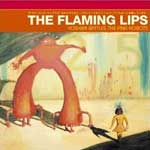 Not only is this the best Flaming Lips record, but it's one of the finest rock albums to be released in the twenty-first century. The follow-up to the almost equally impressive 1999 release The Soft Bulletin, Y.B.T.P.R is a sadly touching, electronically bizarre, loosely based concept album that incidently lacks any type of clear storyline. Regardless of its confusing themes, the album transferred seemlessly onto stage, becoming a far out, celebratory expo of confetti, light shows, and dancers in animal mascot suits (Justin Timberlake suited up one night as a dancing dolphin). As Steve Sanders so eloquently put it in that 1995 episode of Beverly Hills 90210 in which the Lips guest starred, "You know, I've never been a big fan of alternative music, but these guys rocked the house!"
Favorite cuts: "Yoshimi Battles the Pink Robots Pt. 1," "In the Morning of the Magicians," and "It's Summertime."
Bad Apple: " Yoshimi Battles the Pink Robots Pt. 2"
---
RELATED LINKS