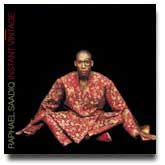 Old school funk has always had psychedelic futuristic feel to it. From the clothing artist wore. To the accompanying bass and drums. Funk was our time machine. Giving you a glimpse of soul music in the future. If you have ever wonder the future of funk and soul? Raphael Saadiq is the Guru with the answer of truth.

Raphael Saadiq has transported Funk artfully, yet very suave into the new Millennium. His first solo album INSTANT VINTAGE enhances the consciousness with intensely vivid soul lyrics, accompanied with abstract patterns of self searching gospel revaluation. The millennium promised many new things, but Raphael is the man that delivered an incredible re-birth of soul music. Preserving his individuality, positive lyrics and the realities of todays life. Providing slow jams that the young and old can marinate in like smoothered gravy. You will catch your body responding subconsciously, by bobbing your head and smooth swaying of the shoulder. Many of the songs on INSTANT VINTAGE like Excuse Me (featuring Angie Stone/Calvin Richardson), Tick Toc, Be Here (featuring D'Angelo), Different Times - (featuring T-Boz), bring it to you with out missing a lick. My two personal favorite Blind Man and Uptown, I can not really put into words, but they just feel, so right. Like the feeling you get when your eating good home cooked soul food. No one has to tell you it's good food, you smell it, and all your sense are awaken. Then you take that first bite and you just know "It's all good".

Raphael Saadiq is renowned for his versatility as a vocalist, producer, guitarist, keyboardist and drummer. In addition he has racked up five nominations for the 45th Annual Grammy®Awards for his INSTANT VINTAGE album, his hit single "Be Here" (featuring D'Angelo), as well as his songwriting contribution on "Love Of My Life (An Ode To hip-hop)" by Erykah Badu featuring Common from The Brown Sugar Soundtrack.

Even with his debut success Raphael Saadiq continues to keep busy by producing other artist and writing new songs for release later this year by such artist as D' Angelo, Nappy Roots, Warren G, Kelly Price, Jaguar Wright, Mos Def, Hi-Tek, Jonnell, and new artists L and J Herrera.

Accomplishments include some of the following:

Writer-Producer
"Brotha" performed by Angie Stone

"Lady" performed by D'Angelo and Grammy® Award Winning album "Untitled".

Co-founder/producer/member of multi-platinum Tony! Toni, Tone ( 5 Albums sold over 6 million worldwide).

Producer of Lucy Pearl (Nominated for multiple awards)

Currently you can also hear his production and songwriting work on "So So Dumb" from TLC's 3D album.