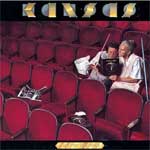 Kansas shakes off the dust with a double fist of favorites!
Some thirty-five years ago..but who is counting...six guys from the Midwest formed a band called Kansas that skyrocketed to fame and to date the band has sold well over 20 million albums worldwide. Not many bands have this type of lasting power unless you got some great musicians with some great song lyrics that can also punch out many great live shows. Well, I am happy to say Kansas is one of these bands that hit all of these elements. In fact on July 1, Kansas is releasing one of their top selling live albums from 1977-78 called Two For The Show : 30 th Anniversary Edition. For Kansas junkies this is a dream come true as the CD fully restores their full-length two-LP concert album. The sound quality is mint and the CD includes their classic hits like Song for America, Point of Know Return, Carry On Wayward Son, The Wall, and of course Dust In The Wind. Now here is the huge bonus, you will also get a second CD that contains previously unreleased live tracks from the same 77-78 tour. The second CD has songs like HopelesslyHuman, Cheyenne Anthem, Lonely Street, and Closet Chronicles to name a few. Also with this CD package is a 24 page full-color booklet with photos and liner notes.
Kansas is well known for their incredible live shows and TwoFor The Show simply shows this off. So put on your Harley hat, crank up the volume, and take a listen to some killer classic rock songs...and Carry On!
For Kansas information and tour news check out: www.kansasband.com.
---
RELATED LINKS