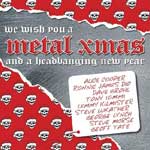 I'm not exactly one who's into the holidays. When I see stores stocking their shelves with garland for the trees and wheeling out the barrels full of rolls of wrapping paper I kind of simultaneously shudder and groan. Recently, a coworker of mine brought a radio in to work simply to listen to Christmas songs and I kind of stared at the back of her head for a few moments just sort of mystified. However, I understand that I'm in the minority when it comes to levels of excitement about the holiday season.
But if anyone can soften my jaded attitude it's the particular group of musicians on the We Wish You a Metal Xmas and a Headbanging New Year CD. Alice Cooper singing "Santa Claus Is Coming To Town," Motorhead's Lemmy singing "Run Rudolf Run," and in the loudest, hardest, most brutal version of "Silent Night" EVER -- Testament's Chuck Billy. Are you kidding me?
Another stellar release masterminded by producer extraordinaire, Bob Kulick -- along with co-producer Brett Chassen, We Wish You a Metal Xmas and a Headbanging New Year is not only the most fun metal album I've ever heard but its arrangements and recording quality are flawless.  Bob Kulick has got the Midas touch when it comes to the records he puts out -- I don't think it's possible for him to out an album that isn't exceptional.
Released on Armoury Records, a division of Eagle Rock Entertainment, listeners will be donning infectious smiles and bouncing in their seats just moments into the first song. "We Wish You a Merry Xmas"  performed by Jeff Scott Soto, Kulick brothers Bob and Bruce, Chris Wyse, and Ray Luzier -- this is not only a great version of a classic holiday tune, but the guitar work alone is something special.
Next comes "Run Rudolph Run" by Motorhead's Lemmy Kilminster, Billy F. Gibbons, and Dave Grohl. With a rockabilly type feel and Lemmy's signature vocal style this song proves that even reindeers can rock.
"Santa Claus Is Coming To Town" - by Alice Cooper, John 5, Billy Sheehan, and Vinny Appice - is both catchy and macabre.
Then comes a song most metal fans would never -- ever - have guessed they'd hear performed by the likes of Ronnie James Dio, Tommy Iommi, Rudy Sarzo, and Simon Wright, "God Rest Ye Merry Gentlemen." Despite the sentiment, this song is full-fledged, melodic metal.
Queensryche's Geoff Tate belts out an up-beat "Silver Bells" along with Carlos Cavazo, James Lomenzo, and Ray Luzier, and then King's Xs' dUg Pinnick joins forces with George Lynch, Billy Sheehan, and Simon Phillips for a groovy, soulful rendition of "Little Drummer Boy."
And one of the songs on this collection that just tickles me is "Santa Claus Is Back in Town" by Tim 'Ripper' Owens along side Steve Morse, Juan Garcia, Marco Mendoza, and Vinny Appice.
Chuck Billy is joined for "Silent (yeah, right) Night" by Anthrax's Scott Ian, Jon Donais, Chris Wyse, and John Tempesta.  Then there's the larger than life "Deck The Halls" by Oni Logan, Craig Goldy, Tony Franklin, and John Tempesta.
Whoever chose the group of musicians to record "Grandma Got Ran Over By A Reindeer" is a genius -- Stephen Pearcy, Tracii Guns, Bob Kulick, Billy Sheehan, and Greg Bissonette - these guys make even the bah-humbug likes of me have a whole new appreciation for this time of year.
The metal holiday cheer is wrapped up with an appropriate "Rockin' Around The Xmas Tree" recorded by Joe Lynn Turner, Bruce Kulick, Bob Kulick, Rudy Sarzo, and Simon Wright, and a touching "Happy Xmas (War Is Over)" by Tommy Shaw, Steve Lukather, Marco Mendoza, and Kenny Aronoff.
For this metal loving chick this is the greatest collection of Christmas songs ever - I hope Bob Kulick will consider putting one of these out every holiday season.
And for the hard-cores, the skull in the Santa hat on the cover of the disc would make a great tattoo.
---
RELATED LINKS