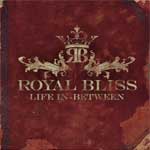 For ten years Utah has been able to enjoy the pure rock euphoria known as Royal Bliss. Now with their first major album debut "Life In-Between," (due out January 13th from Capital Records) they are sharing their sound with the world. "Life In-Between" is loaded with intense feeling, incredible music and pure rock. Royal Bliss has managed to capture the good and bad in life in such a way that every person who hears them feels like that song was meant for them. Their name comes from a combination of the word royal meaning "of or pertaining to a king" and the word bliss meaning "supreme happiness" so together the name means King of the best feeling you can feel. Which is a very apt description for this Utah based band. Their music has such intensity and when lyrics are added to the mix the range of passion is indescribable and does make one feel every emotion that these songs evoke to its brink.
In "Life In-Between" the emotion is compelling and raw in every song, a perfect combination of humility, skill and desire, compelling listeners to search the meaning out of every track. The entire album is filled to the brink with good times to be had. From the first song "Save Me," to the last "I Was Drunk," both of which have been released as singles, "Life In-Between" proves to be a classic in the making. Other songs that are among my favorites are, "Devils & Angels," and "Here They Come," both of which are sure to reach the souls of those who hear them. "Devils & Angels" describes the good and bad choices we all face in life, inner demons so to speak. In "Here They Come" we are confronted head on with the realization that people try to put there points of view on you, pushing you to be, act and think their way, and trample the desire for individualism.
One cannot listen to just one song from this album without being compelled to want more, hear more and demand more. Royal Bliss's sound is very unique and has a momentum all its own. They have obtained a very loyal fan base through out the west coast (especially in Utah) that will surely spread like wildfire to the rest the US as well as beyond as more people are exposed to the blissful rock sound that Royal Bliss has captured in such a captivating way.
From their conception as a band, Royal Bliss has faced horrific times, yet still managed to hold their devotion to one another and to their music. Throughout the last ten years they have experienced tragedy within the band, tragedy that would have torn most groups apart and left them defeated but they wouldn't allow that. Through sheer will and their devotion to music and their band, they pulled themselves through the rough times and have used every ounce of pain, every moment of joy to produce "Life In-Between," one of the best albums I have heard in years.
"Life In-Between" track list:
Save Me
Here They Come
Devils
Pocket Of
Finally Figured It Out
We Did Nothing Wrong
By & By
Wash It All Away
Whiskey
Fancy Things
I Don't Mind
I Was Drunk
---
RELATED LINKS