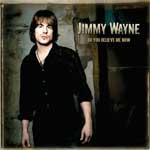 >Hard luck livin' and lovin' are the central themes of Jimmy Wayne's second CD, Do You Believe Me Now. It is filled with autobiographical accounts of Jimmy's tumultuous childhood and how he's channeled them into something good. You don't have to let other people's perception of you determine your worth; heck, empathy is the cornerstone of Country Music. Jimmy has made a livin' out of proving people wrong, which is the central theme of the record's title song.
Do You Believe Me Now, goes to show that sometimes being right you still end up losing. The song's heartfelt heartache follows suspicion into certainty stemming from a moment of weakness in a relationship. Having a hunch about someone isn't always good. This song musically has a larger feel compared to some of Jimmy's more intimate melodies on this release. It's catchy and prime for Rock radio as well as New Country. First impressions can crystallize a moment, but nothing is ever set in stone, for example the song Kerosene Kid is another sonic gem in this diamond mine of songs.
"Kerosene kid, don't let 'em get you down
Just hold your head up and be proud
Kerosene kid, they don't understand
Everything that we got is a gift"
We all know that kid; the one wearing yesterday's clothes and smelling of Kerosene. Those who know the hardship of growing up poor, and not having consistent heat in their house or trailer, can really identify with this song. It's a profound sensory moment that takes me back to my own hometown where oil refineries belched fumes into the sky. This song's melody is steeped in rocket fuel; blazing forth with rock guitar riffs and a driving rhythm section that is relentless.
One of the best songs on the record states it's not where you've been but, Where You're Going. This is the most revealing part of Jimmy's past. At 15, Jimmy was locked up in a juvenile detention center for being a runaway. Years later he visited the same place; this time as a criminal justice student with the local community college. The same guard that had checked him in so many years ago, still referring to the detainees as trash, was still working at the facility while Jimmy had moved on to make a better life.
I Didn't Come Here To Lose and Brighter Days, both inspire the listener to just hold on in difficult situations. Some of the best guitar work on the album is contained in these two tracks. There is beauty and determination in the contagious musical arrangements. The melodies stay with you like a good friend giving you encouragement with lyrics like, 'Is that all you got, bring it' and 'Cuz sooner or later the clouds gonna break.' (lyrics to both songs respectively) Jimmy is the kind of guy that will stand by you and give you a second chance.
Though this is his second CD, it's really another shot to experience Jimmy Wayne for the first time. Stay Gone and I Love You This Much; both timeless classics from his first self-titled release are included on this record. A dark past has made him the man he is today, but because of the lessons he's learned along the way, he has a brighter future. As Eleanor Roosevelt once said, "No one can make you feel inferior without your permission." Jimmy's determination and perseverance have forged the piece of coal he was given in life into a precious stone that captures the light for all to see, and hear.
"Do You Believe Me Now" - 3:26
"I Will" - 3:57
"I'll Be That" - 4:06
"Brighter Days" - 3:47
"One on One" - 3:25
"Kerosene Kid" - 3:26
"No Good for Me" - 3:12 (duet with Patty Loveless)
"True Believer" - 3:20
"I Didn't Come Here to Lose" - 3:40
"Where You're Going" - 4:17
"Stay Gone" - 3:43
"I Love You This Much" - 4:02
RELATED LINKS