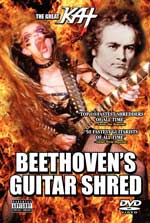 She's a busty blond with a guitar -- and has more attitude than Lita Ford.
She doesn't play, but incinerates, classical music -- and is faster than Yngwie Malmsteen.
She's outrageous, dangerous, and ferocious -- she's The Great Kat - and if you haven't heard her play yet, after you ingest this DVD you'll never be the same.
Voted by Guitar World Magazine as one of the 50 Fastest Guitarists of All Time, The Great Kat - a Juilliard graduate, takes guitar playing, classical music, and performance wow-ness to a whole new level.
The new DVD, Beethoven's Guitar Shred, includes seven blazing, albeit brief, videos in all: "The Flight Of The Bumble-Bee," Beethoven's "5 th Symphony," Paganini's "Caprice #24," Bach's "Brandenburg Concerto #3," Kat's macabre "Torture Techniques" - proving in an in-your-face kind of way that Kat won't be pushed around just because she's a girl, and more.
Bonus material includes the "Shred Kartoon" -- an animated Kat shredding even more, shredding out-takes, shredding geniuses, and just when you thought it was over -- even more blood, fire, technical innovativeness, and -- yes, shredding.
If normal, speed-guitar playing has just become kind of hum-drum for you, check out The Great Kat. She might give you nightmares, but you'll thank Mr. Sandman come morning.
---
RELATED LINKS