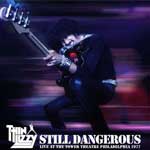 Thin Lizzy is one of those bands that is bigger than a "band," it's not just a classic song that makes Thin Lizzy great - it's not just a dozen songs, and it's not just their stellar performances nor the fact that they've influenced so many others since their arrival on the scene in the early 70's.
It's all these things - Thin Lizzy is proof that the sum is greater than its parts.
Formed in Ireland in 1969, Thin Lizzy wowed music lovers with their catchy, quality rock and roll tunes and their then-rare double lead guitar harmonies. Decades later, rock and roll enthusiasts are still blown away by the music that came from Phil Lynott and company.
Just released on VH1 Classic Records is Still Dangerous: Live at Tower Theatre Philadelphia 1977 - a musical time capsule of a band at the top of it's game, and giving a performance that so accentuates why Thin Lizzy is great - it's almost as if it was planned.
The recording and production are crisp and clean - especially for having been recorded more than three decades ago. Between songs you can hear the audience but it doesn't ever take away from the music.
Songs include: "Soldier of Fortune," the rousing "Jailbreak," "Cowboy Song," my personal first love by Thin Lizzy - "Boys Are Back in Town," "Dancing in the Moonlight," "Massacre," "Opium Trail," "Don't Believe a Word," "Baby Drives Me Crazy," and "Me and the Boys."
Still Dangerous offers fans a way to relive some of their glory days, and maybe even relive Thin Lizzy live. And for those who might have been too young to have been there this album is a way to feel like they're a part of musical history - and rocking all the way.
---
RELATED LINKS