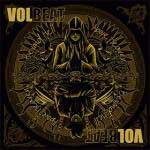 Let's put this straight for the record; I have always had a 'love it or hate it'-relationship with Volbeat in the past. The Scandinavians did strike me with excellent songs over and over, but did disappoint me when I listened through the entire album afterwards. I missed something... something just did not add up. But then there is...
Volbeat has been building their career slowly, bit by bit. Ongoing streaks of recording and touring where endless, but the band managed to build a solid base of fans demanding more, and infecting many over the years. An invitation to support Metallica shot them sky high. Deserved...
"Beyond Heaven / Above Hell" is the latest fruit of their labour and for me personally their very best. The album simply displays all there is to them.
Energetic driving metal, forcefull riffs, striking melodies and ear mingling choruses. Perfect example is the opening track "The Mirror and the Ripper" and "Who they Are", both slick but very powerfull. The southern rock drenched "Heaven nor Hell" and the hard hitting metal outburst "Evelyn" (with Napalm Death' Barney Greenway guesting) are displaying the wideness of the Volbeat Horizon. Flirting with classic psychedelic rock in "7 Shots", a direct twist off from the classic "Ghost Riders in the Sky". A blink of an eye later twisting and shaking up the room with some old school rockabilly in "16 Dollars" or stomping below the belt with rip roaring Oi inflicted tunes "Being 1" and "Thanks". All of the blended into the truly unique and inspiring Volbeat sound.
"Fallen" is the first single output and flirts with pop oriented guitar rock as where "Magic Zone" overshoots by far thanks to that same fact. It simply is a bit to slick, but doesn't sound out of place in this record's diversity. Volbeat's overal sound is rightious to the bone and even poppy tracks benefit from that sincerity.
On top the album is blessed with an energetic and powerful production, capturing the live feeling and pleasure displayed by the band onstage.
Volbeat's "Beyond Heaven / Above Hell" finally unites the wideness of their musical spectre and captures the magic and brightness of one of metal's most promising stars. A captivating journey through a unique sonic landscape. Melodic, yet powerful! And above all: honest and driven...
8.8 out of 10
Tracklist:
1. The Mirror And The Ripper
2. Heaven Nor Hell
3. Who They Are
4. Fallen
5. A Better Believer
6. 7 Shots
7. A New Day
8. 16 Dollars
9. A Warrior's Call
10. Magic Zone
11. Evelyn
12. Being 1
13. Thanks
---
RELATED LINKS