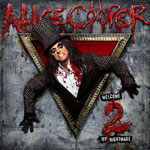 In 1975 Vincent Damon Furnier (a.k.a. Alice Cooper) split from the band moniker to record his first solo effort. The result was the seminal concept album Welcome To My Nightmare. Now, thirty-six years later the character Steven, which sprang forth from that madness, gains a new perspective. Welcome 2 My Nightmare is a ghoul-de-force continuation of Stephen's anguished world. It's a seven deadly sin tour of Dante's underworld that will leave you gasping for breath.
For those of you who thought the tales of horror were over, Alice greets you with the haunting I Am Made Of You. Is this an explanation...confession...or manifesto? Remember, we create our own monsters in society--children pay attention to EVERYTHING. The lesson to be learned from this comes from the lyric, "You're the singer, I am the song."
Barreling on though the CD comes the song A Runaway Train. It is a blood-orange-blossom special (ala Johnny Cash flavor) to hell where he finds himself on a vagabond transport. This is the beginning of his decent into madness while in the company of his piers, but just because you are a psychopath doesn't make you special - No one's impressed here. A moment of clarity occurs when he realizes that he's been "Sleeping in the graveyard on the wrong side of the dirt."
Welcome To The Congregation is the core of what this record is all about. Alice's lyrics mix some interesting observations of hell with a tsunami sound wave. This stadium anthem will have fists flying in the air, and maybe a few other body parts. It's a ghoul tour of what I think is a pretty hellish kind of hell. The rest of the CD mixes a myriad of genres that take you on a roller coaster ride of melee. The record incorporates Vaudeville, Disco and a really cool surfing safari slaughter.
The first single off of the release is a classic hard rock tune called I'll Bite Your Face Off. It's reminiscent of early AC/DC, only this time the guy doesn't get the girl, it's the other way around, and not in the way you would think. This song will be rocking you all night long, 'little man.' Classic rock riffs and melodies are intermixed with gravel like vocals that sinks its teeth into your dermis.
Just when you think you have Alice figured out, he goes and does something that knocks you up side the head. Alice isn't just one kind of man, he can be sensitive. The song, Something To Remember Me By, is in my opinion, one of his sweetest ballads. The torches come out in this song but it just may be angry villagers instead of cigarette lighters lining the aisles of the stadium when he plays this song. It is the calm in the storm that gives you just a brief moment of sentiment, before he drags you back down into the earth with the song When Hell Comes Home.
Another surprise is Ke$ha's contribution, who affectionately calls Alice "dad", is the wickedly playful, What Baby Wants. "I think a lot of my audience is going to go 'KE$HA!?', but she probably wrote the most wicked lyrics in the song - we had to rein her in. I like people to know that just because artists are put in a pigeonhole, that doesn't mean that's what they are. Give people a little room."
Alice is back as the masterful storyteller and proves once again that art is an expression of life. He is the emissary of a beastly society that grows in droves to its eventual demise. So sit down, turn the lights off and spank your inner monster. Welcome 2 My Nightmare submerges you into society's sewage where no one here gets out alive. It's like the choir at the end in the song I Gotta Get Outta Here, says "What part of dead don't you get?"
Welcome 2 My Nightmare
I Am Made Of You
Caffeine
The Nightmare Returns
A Runaway Train
Last Man On Earth
The Congregation
I'll Bite Your Face Off
Disco Bloodbath Boogie Fever
Ghouls Gone Wild
Something To Remember Me By
When Hell Comes Home
What Baby Wants
I Gotta Get Outta Here
The Undertune
---
RELATED LINKS