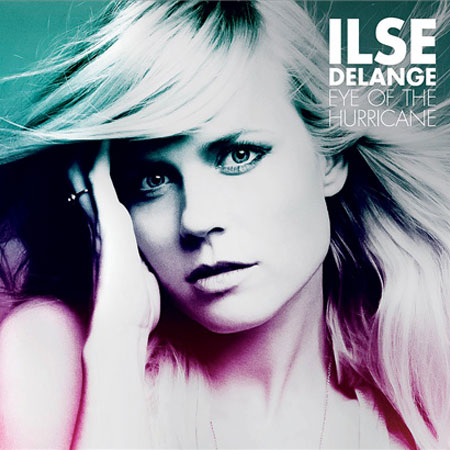 I never really understood why this woman hasn't taken the USA by storm. Dutch singer songwriter Ilse DeLange has been recording and performing melodic country rock for almost 15 years now landing numerous songs on the number one spot in the Dutch charts, whilst awards covered every single brick of the walls in her house. In the midst of this entire appraisal, Ilse herself always managed to be as down to earth and open hearted as in her debuting days. A pleasant personality...
It is exactly that down to earth character she adds to the songs making "Eye of the Hurricane" a real pleasure to listen to. Keenly arranged melodic pop/rock blended with crisp country structures over which DeLange shines brightly with her warm and wide ranged voice. She has that typical vibrato, needed in this genre. Captured in her crystal clear voice, she has a little sunshine smile hidden.
"Eye of the Hurricane" was originally intended to be a feel good album which it still is, to a certain level. Originally announced to be released a year ago, the album was postponed. The sudden death of her father had DeLange taking a distance from her recording and production and the harsh reality caused the CD to crack in the middle. "Eye of the Hurricane" suddenly went from feel good overall, to be a well-balanced musical endeavor. Upbeat pop/rock tunes with a nice glimpse of the summer drenching your mood in solid gold. "Dance on the Heartbreak," "Learning to Swim" or the title track, can easily make a club 'party out' within seconds. Mature melodic tracks which are carefully crafted around DeLange's wonderful voice, without falling in between styles. It features enough of everything to attract a wide audience, as it does have the typical 'little snif'n tear' which also marks great country voices like Yearwood and Judd.
Contrasting with these tracks are the three songs she wrote as homage to her father. The gripping country ballad "Time Will have to Wait," which pours with heartfelt emotion, is a true tearjerker. Much like "We are One" which walks a more modern path of the genre, as where "I Need for You" is a shout out emotional tune dwelling in silence. Minimalistic in arrangements, stripped to the bear essence of emotion, this song has you graspin' for air.
Strangely enough, this emotional outburst is creating intimate scenery over which the other tunes shine their smiles. Focal points which capture the imagination and make you linger in remembrance of your passed beloved ones. Her story is yours... "Space Cowboys," "We are Diamonds," and the Furtado-like "Just Kids" again bring smiles to our faces, as where "Magic" shows an entirely different side to Ilse's talents. A slightly gloomy atmosphere contrasting nicely with her wide ranged clear voice. A song which could have been featured on any of the newer U2 releases, or even Muse.
No, "Eye of the Hurricane" might not be the album Ilse DeLange originally intended to release as the follow up to the acclaimed "Next to Me" CD, but perhaps that is only the best thing which could happen. This new CD has Ilse showing a different side to her talents, and it is one I like to hear more off.
88 out of 100
---
RELATED LINKS