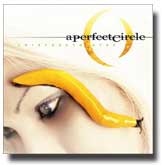 Thirteenth Step is proof that it doesn't take much to be better than what's selling on the mainstream front these days. Not to say it wouldn't be a good album anyway, but the sophomore follow up to Mer De Noms does leave a bit to be desired.

With a new album comes a new recruitment, including Vandals drummer Josh Freese, Jeordie White (aka Twiggy Ramirez of Marilyn Manson), and James Iha of Smashing Pumpkins fame. The drive to be hard while still being softer than Tool is still there and the album has some really great tracks. "The Package" varies between a hard hitting edge and an instrumental ease with Maynard James Keenan's beautifully haunting vocals carrying it along the way. Keenan's vocals continue to inspire and to chill along the way.

This album is full of the good, the bad, and the "what the fuck was that?", the latter namely pertaining to the song, "The Nurse Who Loved Me". An odd song that amuses me for unknown reasons, it's eerie background music tends to leave you wondering. As for the bad? Well, "Crimes" is certainly in that line-up. An artsy little bit of drumming and counting off, it serves as sort of an intermission before leading into the previously mentioned, "The Nurse Who Loved Me". All in all, a decent album. I'd give it a 7 1/2 out of a scale of 1-10 for the simple reason that Maynard is still kicking ass and has good intentions. The songs that do, in fact, rock do so mighty hard.