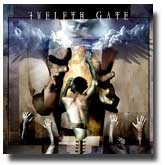 In today's world of heavy music, "seasoned" Metal veterans instinctively categorize each and every band, and its music, into one of the various divisions within Metal music's infinite army. You know what I mean. This band is a Thrash Metal band. That band is a Progressive Metal band. Another band is a Death Metal band, etc. Occasionally, a Metal band comes along whose music embodies several different styles of Metal which ultimately make them much harder to categorize. They're not just Power Metal or Doom Metal or Thrash Metal or Black Metal. They're not just Progressive or Gothic Metal. They're just...well...freakin' METAL! Such is the case with Crash Music Recording Artists TWELFTH GATE and their debut release, "Summoning." With obvious roots in "classic, old school" Heavy Metal, TWELFTH GATE has brewed an intoxicating concoction of different Metal styles into one of the heaviest, head-banging releases of the year.

From the gut-wrenching guitar assault at the very beginning of the opening track entitled "Mortal Coil", you immediately realize that this isn't going to be just another Metal release. There are numerous, ultra fast and thunderous guitar riffs on this track which unremorsefully set the tone for the rest of "Summoning." Guitarist Rich Knight is an incredible talent who undeniably "shreds" like an untamed, wild beast! His mercilessly relentless and heavy as hell guitar riffs are razor sharp and shamelessly reek of Metal. His expert guitar savagery is accentuated by a gargantuan sounding rhythm section that is comprised of bassist Rob Such and drummer Mike Nevaril. These two metal warriors provide the ultimate Metal "thunder" that most Metal guitarists can only dream of working with. But one of the most amazing characteristics of TWELFTH GATE is the bands extremely powerful and impressive "vokillist." Iron lunged Scott Huffman is a brilliant performer and lyricist, with an astonishing voice who for years has been compared to Iron Maiden vocal god, Bruce Dickinson. And although I can hear shades of Rob Halford, James Rivera and at times, even Warrel Dane of Nevermore in his voice, Mr. Huffman definitely knows how to deliver the goods in his own unique and innovative, melodic vocal style. And his lyric writing approach assists in creating an atmosphere for the music that is immensely thought provoking. The man simply must be heard to fully comprehend his vocal genius.

Immediately after the monumental onslaught of "Mortal Coil", TWELFTH GATE resumes their Metal attack with an eerie intro into "Desire Brings" which uncompromisingly breaks into enough Metal mayhem to easily satisfy any metalhead, no matter what genre of Metal they may prefer. The next title, "Orpheus" features Scott Huffman's hallowed vocal expertise and without question, would become an instantaneous Metal "classic" for Rock/Metal radio stations if given the opportunity. "Innocent" aggressively and assertively pounds the listener with a hint of Metal's more modern sound before the band unveils the rather sinister sounding intro to "Flames of Anger." The dynamic energy unleashed in this song is a prelude to the "metallic meltdown" ignited during "Waiting in Shadows." "Sugarcoated" is the next skull crusher that has a Progressive Power Metal feel to it reminiscent of "old school" Metal legends, Helstar. "Wheel of Life" is another unrelenting Metal hymn entirely encumbered with bone-crunching guitar riffs, blazing speed and deafening blast beats for all the Death and Black Metal fans. The next title is "Bridge of Uncertainty" and is in my opinion, one of the supreme "gems" of TWELFTH GATE'S "Summoning." This track includes one of the heaviest riffs on the CD and leads directly into the ultra thrashy, "Malevolent Sky." The band closes the recording with "Forgotten Names" which includes a very cool Black Sabbath like intro before breaking into yet another, unyielding TWELFTH GATE Metal execution.

Although this is TWELFTH GATE'S debut release, these Midwest Metal tyrants have been wreaking havoc throughout the U.S. Metal battlefields for years now and the quality of the musicianship on this recording is an affirmation to their numerous years of hard work and dedication. And on top of that, the production to "Summoning" is utterly superb. Simply put, TWELFTH GATE'S "Summoning" is a monstrous slab of molten Heavy Metal supremacy that all "true" metalheads should get the opportunity to sink their fangs into. This is what Metal music is all about. Metal on Metal and nothing but Metal! However, "posers" BEWARE! This is not for the weak or false! This metallic opus is intended for "real" Metalheads ONLY! So to all the loyal Metal minions out there...The Metal Gods are "Summoning" YOU...to open "The Gate"...the TWELFTH GATE...if you dare...

Special Note: Since the release of "Summoning", TWELFTH GATE has added former Oppressor guitarist Jim Stopper to their line-up to further solidify the bands lethal Metal assault!

---

RELATED LINKS
Twelth Gate Web Site
Label Web Site