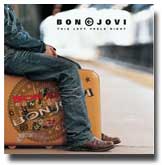 Bon Jovi has never been a critic's darling. Why? Well, very early on in their career they achieved colossal success. You always root for the underdog and let's face it, if you were not a fan of hair band music in the late 80's when Bon Jovi was one of just a dozen of those bands with videos on MTV, nothing more. However, there was always something that made the band stand apart from all of those other bands. Proof in the pudding was in 1992 when the band put out their first album in four years and had to face the grunge-semi stomping everything in its path. The band prevailed with a successful world tour and an album that sold close to ten million copies worldwide. Since then, there are those critics who have come to embrace the band and others who see them as lucky bastards who have just been in the right place at the right time. Since 2000, the band has resurrected in a major way; the enormous success of "It's My Life" introduced the band to a whole new generation of fans. The band was selling shows out even quicker than they were in the 80's. Proof of the success is the $40 million the band made from about fifty shows this year in America alone. However, while I have loved this resurgence in popularity, I have also had some misgivings about whether this hindered or helped the band musically.

In the last few years the band has elevated itself to new heights, but along the way have also made a number of gargantuan missteps and each one makes me wonder whether they continue to make music because they love it, or if it's for the almighty dollar. Let me say, first things first, I'm all for making as much money as you can. I have no issue with bands playing big arenas and stadiums. I have no problem with a band going on numerous talk shows to plug a product. It is a business after all and sometimes greater financial success means more creative ability to do what you want to do. However, there are times when decisions are made purely for financial profit and the music does not even take a back seat...it gets thrown out the window. One of the biggest blunders will occur on Tuesday November 4, 2003 with the release of their new album, "This Left Feels Right", a collection of reinterpreted "Greatest Hits". Early in 2001, the band took a break so Jon Bon Jovi could film a truly atrocious film, the sequel to the James Wood movie, "Vampires". The end result was a film that only went to cable. During the filming of that movie, a decision was made to release a live album. The end result, "One Wild Night: 1985-2001" is one of the most inferior live albums to ever have been released. What upset me about this release is that Bon Jovi's prevalent secret weapon is their live shows. They are hands down one of the best live bands on this planet. They can pretty much give any live band a run for their money. The energy they put into their shows in unheralded. Yet, when you listen to the live album, it's so poorly edited and sequenced, you get the impression they took fifteen tracks (almost all of them had been released is some fashion previously to this album) and hit the "random" button on their CD player and simply put out the end result. Whoever put it together (Jon Bon Jovi had little to do with it since he was filming a movie) simply took the most recent mixes available of the songs and put them out without a single thought about sequencing, feel or themes. Liner notes aside, the entire album was a massive faux pas. Even more exasperating was the fact that the band was handed a detailed outline of songs, sequences and choices for the best versions of songs that should have been put on the live album. More distressful was the fact that the CD was one disc. This may have been a record companies decision, however, something both they and the band should have considered is the fact that with a few rare exceptions, live albums don't sell by the tens of millions. If the band had chosen to release a solid two CD set of live performances, the band would have passed the one hundred million mark in record sales sometime last year. But they chose to release a one CD set and the irony is that no Bon Jovi fan really listens to the album. Instead we choose to listen to bootlegs and b-side compilations (created by the fans) as those titles have more soul and spirit than the official live album.

More evidence the band is more concerned with milestones and money is the fact that "Bounce" failed to propel the band pass the one hundred million mark (despite overexposure and whoring themselves out on QVC and the Super Bowl). So what do they do to solve this issue? They decided to release an album this fall. Initially it was supposed to be an acoustic greatest hits record. I thought this was a luminous idea because people I know who spurn Bon Jovi yet like certain songs when heard acoustically, in their rawest form; this showcases Jon Bon Jovi and Richie Sambora as first rate songwriters. Plus the band did a handful of acoustic shows this past summer, which were among the best shows they had ever done in their career. Yet, somewhere along the line, the idea of an acoustic record changed to a reinterpretation of their "Greatest Hits". On the surface this sounds intriguing and refreshing. Guess what, it's not. I appreciate the fact that the band was inventive, creative and worked hard on what became "This Left Feels Right". However, the album is un-listenable.

Nothing on this album is really even worthy of being a b-side. The over the top production of "Wanted" with swirling electric guitars has grown on me, but still, this is the type of song you throw on a CD single as a "remix". "It's My Life" has been slowed down to an acoustic piano ballad, which is neither good nor bad, just dreadfully bland. "Livin' On A Prayer" has been reworked extraordinarily for the better part of a decade and yet they somehow managed to screw it up here. Instead of Sambora's backing harmonies, actress Olivia d'Abo (yes, the sister from "The Wonder Years") sings the harmonies with Jon Bon Jovi. The results are dreadful. The ballads ("Bed of Roses", "Always", I'll Be There For You") are all insipid and add no new dimensions to the songs that live or acoustic versions have in the past. Stadium anthems "Everyday", 'Born To Be My Baby" and "Keep The Faith" fall so flat in these new versions that I cringed when listening to them. The irony is that an acoustic b-side of "Everyday" put a completely new spin on the song earlier this year. "You Give Love A Bad Name" and "Bad Medicine" have been reduced to honky-tonk country versions. The master tapes of these two songs should be incinerated. There was reason why the band never played these songs in any other form than their original versions because these are songs that are arena anthems and there was not really any way to slow them down. They did that here and the outcome is ghastly. The one song that does stand out to me is "Lay Your Hands On Me". It has been completely redone and does have huge Peter Gabriel vibes all over it. It is creative and interesting, but then again, U2 has done some interesting stuff with their remixes over the last fifteen years, but you don't see them putting a CD out with "reinterpreted" versions of their biggest hits. "Hands" is the only track which does not make me cringe in its new skin. It is really a new song. Granted, I'll never want to see the song performed this way, but it is creative...not that it is any consolation.

The biggest surprise in all of this is that Pat Leonard was behind the board producing this set with Jon and Richie. I can't believe no one spoke up and tried to tell these guys what they were doing was just flat out awful. Pat Leonard is an incredibly gifted producer. A decade before Madonna gave birth to a child, discovered the Kabala and Yoga, she produced her deepest and most revealing album with Leonard. Many people think "Ray of Light" was her personal break through record. As impressive of a record as "Light" is...it does not hold a candle to her 1989 album, "Like A Prayer". With the assistance of Leonard he helped her fine tune deeply emotive songs right up there with pure pop songs that even pushed the pop envelope. It's a perfect five-star album in every way imaginable. I am not sure what happened here with Bon Jovi, but I have a feeling it involved too many egos where no one wanted to tell anyone that what they were creating was horrific.

The band has had numerous chances to show the world what they are made of. Including what an electrifying live band they are with the release of a live album...instead we got a half-assed collection of tunes because their engineer was too lazy to look through the vaults, even though detailed outlines were presented to the band. Instead we got a bunch of songs tossed on a disc without any rhyme or reason. They could have offered something truly unique on their QVC broadcast (a full live DVD); yet instead we got something that was pathetic at best. Now instead of a proper acoustic CD, which could possibly open other people's eyes to the bands vast talent, we get a disc that should be reserved as b-sides, or given away as a free disc with another purchase at a store like Best Buy. Triumph The Insult Comic Dog (with whom Bon Jovi did a hilarious skit on Conan O'Brien in 2001) would not even find a CDR copy of this album poop worthy. Between this album, the mediocre live album, ticket prices for stadium shows reaching $150 with service charges (I'm sorry, unless Keith Richards is on either side of you, you have no business charging $100 for a stadium show) and the bands obsession with getting as much money imaginable, I and many other die hard fans are becoming sick to our stomachs watching the band whore themselves out. They intend to release a box set next year and I'm not even excited - because after years of waiting for treasured demos to come out, I have a feeling it will be anticlimactic.

To add insult to injury, this album was originally going to have two new songs. One of them, "Last Man Standing" Jon Bon Jovi played one morning when he was a guest DJ in New York. This song, mainly an acoustic number, showcases everything this band does extraordinarily and even has hints of early Dylan in the lyrics, a compliment of the highest regard. This is the type of song that would make non-fans stand up and say "Hey, that is a really profound lyric and maybe there's more to this band than I am willing to give them credit for". But no, the band decided to drop these songs at the last minute. I would have forgiven the release of this album if it contained the two new songs. I would have viewed it as an elaborate CD single with a bunch of remixes.

If that's not enough to ruffle my feathers, the band is auctioning off fifteen minute Instant Messaging Sessions with Jon Bon Jovi on Ebay. These auctions are going for $2,000 a pop. Now granted, no one is forcing anyone to bid on them, but what kind of band does this? They do not need the money, so why do it? I don't remember seeing how the band squandered their money away on Behind The Music? I also remember Jon Bon Jovi saying how he made his first one hundred million by the age of thirty-five. So why on God's green Earth would the band allow themselves to be sold on Ebay? The worse part is that none of this money is going to charity; it is a pure commercial endeavor. The same goes for the DVD taping the band is having in Atlantic City later this month. They are charging people $200-$350 to watch this performance. Now, while other acts get premium dollar for seats at this Casino, everyone seems to be overlooking one huge thing: this is a taping for a DVD that will generate millions upon millions of dollars for this band around the world. Not only that, but the record company is picking up the bill for this show. Is there any reason that the band should be charging those kinds of prices for a DVD taping where mistakes will happen and the band will redo numerous songs throughout the night? No, there is no reason the band should be charging that kind of money. Once again, not a cent is going to charity.

I will give "This Left Feels Right" an "A" for effort for wanting to do something innovative and stimulating, but they get a "D" for the final product as the songs come off as soulless. Like "Bounce", this album was over-thought. This is why they are a far superior live band...there is no over thinking in that arena, they get on stage and play what they feel. Just once I'd love to see Bon Jovi strip back everything on their records and let everything come naturally. "Bounce" has some truly remarkable songs on it, yet so many of them were lost in its overproduction. Their amazing and daring output from 1990-1998 seems to be gone forever as the band is less willing to take chances. It's a shame, because by taking chances the band could move forward. I remember a band member who once had t-shirts made up that said "Who Dares Wins". Maybe it's time for Bon Jovi to pull that shirt out of the closet and give it a good look.

I pray to God they don't work with Pat Leonard on the next full-fledged studio album. I can only wish they would produce it themselves or bring in someone who wants to record the band live. Everyone that I play the "Bounce" demos for is amazed at how superior they sound to the actual over-the-top production of the album. How about bringing back Peter Collins (who produced 1995's "These Days") or even better, hire Steve Van Zandt as he was largely responsible for the sound on a number of albums that Jon grew up with and influenced him to become a rocker in the first place (Southside Johnny's "Heart of Stone", Springsteen's "The River" and "Born In The USA"). I truly believe that Steve could give the band that kick in the ass it so seriously needs right now.

In late 1991, Jon cleaned house in the Bon Jovi organization to give the band a fresh perspective. It also helped the band clear the decks and concentrate on making music. Hopefully they will get back to doing that soon. I believe it is time to clean house again because whoever is giving them advice is clearly not doing it in their best artistic interests. I still believe Bon Jovi is a great band. I just hope they find their way and don't stray any further. Hopefully they will come to learn that less is more. If it isn't broke, don't fix it.