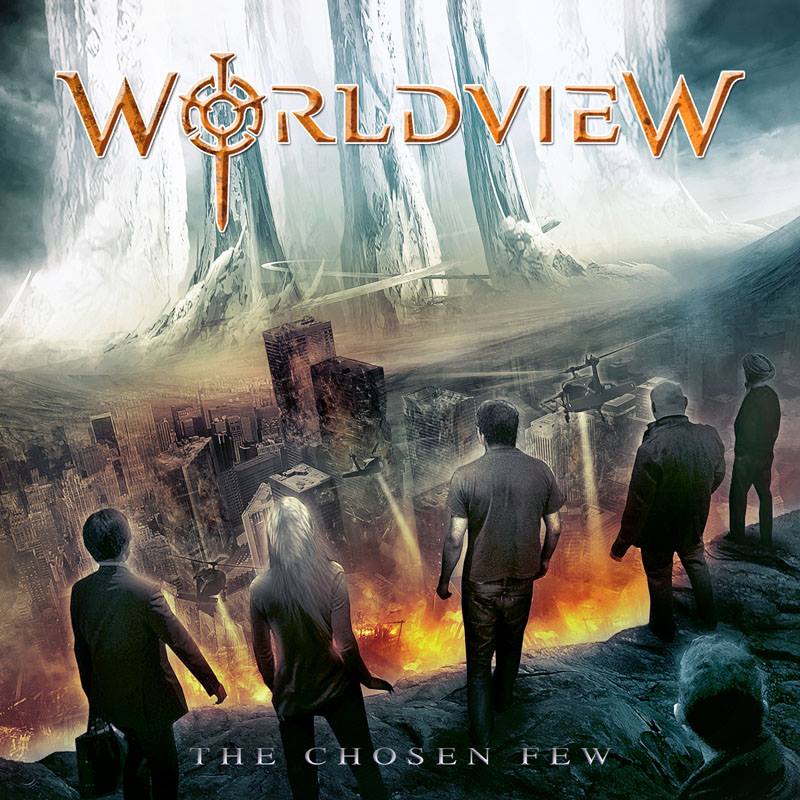 Now this is one that struck me on the spot. Worldview is the brand new project consisting of famed metal veterans from iconic bands Sacred Warrior, Deliverance and Recon. Indeed, the weight of the band is rooted in the gospel section of heavy metal, but let's cast that aside for Worldview, because if you don't you might miss out on one of the finest powerhouse releases of 2015!
Worldview rose from the ashes of mutual friend and fellow Sacred Warrior musician Rick Macias (R.I.P) as the project embodying the hailed collaboration between Recon/Deliverance's Ochoa and powerhouse vocalist Parra (Sacred Warrior). It was a much-discussed collaboration that Macias always hinted at and finally became reality when forces united to honor their friend. An inevitable collaboration also hailed by many friends in the scene lending their services to this remarkable tribute. Stryper's master shredder Oz Fox and guitarist Larry Farkas (Vengeance Rising, Die Happy, Galactic Cowboys), Les Carlson of Bloodgood and Jimmy P. Brown II (Deliverance) all stepped up to make this album one to remember. Do not expect a simple and (perhaps) forecasted cross blend of the Sacred Warrior and Recon sound, Worldview offers a wider and more varied palette of dramatic power metal than one could have imagined.
From the haunting and oriental laden opening "Mortality" onwards, the band takes us on a journey through a sonic metal wasteland. The song transforms its oriental underscore into a Celtic melody line during the ear mingling chorus. Parra's charismatic vocals empower the excellent lyrics that are dramatic and gloomy. Mid-section the song explodes with guitar extravaganza over the returning oriental theme that dramatizes the song even more. These keen arrangements and orchestrations are what make this debut such an excellent piece of work. The following "Illusions of Love" features a modern and dark growl over the chorus and is brought to life by the rolling drums and industrial sound effects. Again Parra belts out and displays his pristine high pitches contrasting superbly with his sophisticated Tate-ish range. Even though that mark will always be present, I tend to hear more of Ray Alder's (Fates Warning) rich toning in Parra's voice. It is so much more metal than former Queensrÿche vocalist Tate sounds. And; it has not fainted a bit.
Check out the refined melodic "Back in Time" which could easily have been featured on any of the classic Fates Warning's albums. Here Rey hits the ultimate highs and pushes the envelope of the melodic metal outfit in a progressive direction. The guitars are in fine tune pulling the song forward and the overall sound is pasted solid by the underlying keys, only present to dramatize the song's structures and provide a perfect base for the classical string arrangements of Armand Meinbardis (Rob Rock). Even more dramatical is the suffering self-reflecting "The Mirror" with its powerful drum rolls and piano leading us into a high pitched picking guitar solo. It's gloomy outline of grunting and haunting narrative howls contrast perfectly with the darker regions of Parra's voice.
It's the perfect way to embark onto the more subtle section of the album. "Why" is an atmospheric hook laden semi ballad with loads of piano and keyboards interacting with the lush guitars of Ochoa. The man's wizardry is outstanding and he manages to bring songs to life with a simple hook or impressive shredwork-solo. "The Wonders" operates in the exact same vein but is more symphonically and contains an impressive bass line ploughing it onwards, flowering with powerful chorus and choirs over pompous arranged key-guitar interaction. The drums make is a colorful example of the varied sounds Worldview has up their sleeve. Between these 'slow movers' Worldview has embedded one of the band's ultimate masterpieces; "Prisoner of Pain". A three dimensional with vivid hard rocking appeal interlaced with impressive colorful guitar riffing and powerful keyboard swirl. The progressive stop 'n go mid-section is outstanding without drifting away from the Worldview's impressive power metal sound. The song surprisingly ends over a rolling bass drum pulled bass and guitar hook, reminiscent to "Blackdog" and with also Led Zeppelin alike howls in towering "Immigrant Song" magnitude.
"Walk through Fire" is an upbeat rocker that has fists flying and features slick and ear mingling vocal lines. Keys are provided in thick layers and in fine tune with the blunt hookline provided by Ochoa. Bass and drum interact at the same high level, and this level is continued on the title track, which is another hymnic classic in the making. Parra's dramatic vocal range reflects onto the crystal clear vocals of Niki Bente, which is subtlety adding to a potion which has a melancholic underline by classic arrangements of piano and acoustic guitars. This is what a metal ballad sounds like; a captivating pompous masterpiece with the allure of the Rÿche's "Silent Licudity" and jaw dropping momentum.
"The Chosen Few" is brought to an end with the impeccable guitar hooks of "The Last Cry", a crushing and distinguished power metal outburst making Parra pitch up things one more time.
"The Chosen Few" contains a strong blend of classic metal anthems, which are keenly inflicted with modern sound bytes and anthemic underscores from the gothic and epic metal scene. Those classic ingredients are leading, making this an exceptional metal gem that stands out on several accounts. Lyrically the band addresses personal issues and standings as well as modern-day culture and views rather than preaching the gospel, without lacking the message of fate and hope. It is self-reflecting and refined with keen word wizardry from Parra. Aside the bedazzling musical craftsmanship and the impressive list of contenders from the scene, the album is blessed with an even so impressive sound hailing from the laboratory of Mr. Bill Metoyer (Fates Warning, Slayer, W.A.S.P). Metoyer captured the band's impressive power in a clean and refined melodic metal sound. The fine artwork is the perfect cover on this debut, provided by Felipe Machado Franco (Blind Guardian, Jorn, Rhapsody of Fire, etc.). It's depicting 5 men staring down at an inflamed dark world with a sixth looking at them from behind. Personally I look at it as the four warriors of Worldview together with Macias, with us as spectators looking at the view they depicted with this collaboration.
The light in the back empowers the art as it fits the message of Worldview's view on the world.
95 / 100
RELATED LINKS