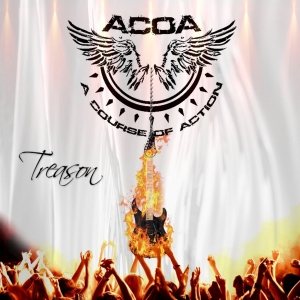 I admit to being unfamiliar to the band's debut making their second album "Treason" my first introduction to A Course Of Action, shortened to ACOA. That being said I hear a band that is currently gaining territory and attention and judging this CD, ACOA might be on the verge of a breakthrough.
By all means: make it happen!
Not being a devoted fan from any of the acts mentioned as their influences, the band managed to capture my attention almost instantaneously. Their grasping and guitar driven rock outburst are drenched in passion and ooze a genuine feel that lasted for many spins as it landed in my car stereo for a solid week. It was the perfect soundtrack to my driving stints off to work and the even better background sound to my anger moments while driving home. The music of the band is perhaps perfectly summed up with names like Alter Bridge and Chevelle, as well as to Alice in Chains, but to me that is far too easy. A Course Of Action's album simply has so much more at hand and the band crystalizes influences from a wider varied scale of music. "107" is the upbeat speed demon that instantly sets the high standard for the album. A jumpy midsection and rolling drums generate an excellent live feel lasting throughout the song.
"Beautiful" is an ominous song with appealing lyrics that are in fine harmony with the melody prior to the sudden unleashed power. Mega melodic and in your face, much like Soundgarden could grab you during their prime. "Hate for Love" and the powerful "The Inside" easily link to it and are propelled by the dynamic drum patterns of JT Chevelle with humming guitars pasting the outline for the extraterrestrial melodic choruses.
More intimate moments are provided with the wonderful melancholic "The Question" revealing withheld anger and radiating honesty. Melodic hookline, gut drenched lyrics, it all adds up. Adding up is exactly what the timid guitar intro is to the ultimate highlight "Who We Are"; one of the best hard rock tracks I heard this year. The lyrics spit a social criticism to our surroundings and affluent society. "Who We Are" grabs you by the throat wile summing up the contradictions in society today, all brought vividly to live by an amazing musical expedition adding up to John Culberson's excellent warm and fuzzy vocals. Culberson remotely reminds me off Creed's Scott Stapp, but with the down-tuned warmth King's X's Doug Pinnick oozes. It feels comfortable yet breathes certain turmoil. It's that vocalic contradiction which provides Jonathan Byrd the perfect bases to cover all ground with his rich toned guitar work. Spitting fire with steep cornered riffs or stapling down a fuzzy carpet of moods as his sweep picks over his guitar.
"Coming Down" is another knuckle bursting rocker with great latitude and drive. The bridge is slick and melodic opening for a nu-metal like jumpy hookline. The dynamics of the chorus are taking along the rolling power outburst of "Soul Worn Thin" with a spitball attitude. It comes straight at you and makes a turn unexpectedly with the in your face lyric: "Bullshit comes for free."
"One Last Time" is a sublime semi ballad with fierce hook and again Culberson is taking point with his excellent voice. The solo is jaw dropping and melancholic while drum rolls provide turmoil for the ear-mingling riff to return over in an almost Tool-like setting. It warps us back into the melodic sweetness of this sublime melancholic track. The title track takes the album full circle with a distorted guitar and tribal drum roll in the vein of Tribe After Tribe, warping us straight into the tremendous dynamics of the song. "Treason" is the perfect launch panel to plunge into a second spin of the album and relive all the moments, over and over and over again.
"Treason" features ten high quality songs brought to live by a band on top of their game. The lyrics and music is the music we all relay to and can be short stories written over the blue print of our lives. The lyrical content adds up to the mood boards of the songs with striking precision, without lacking the pitch of classic hard rock. Down tuned two steps to a C, metal can sound still vividly alive.
A Course Of Action are John Culberson (vocals, guitar), Jonathan Byrd (guitar), Wes Johnson (bass), and JT Silvestri (drums).
Rating: 88 / 100
RELATED LINKS