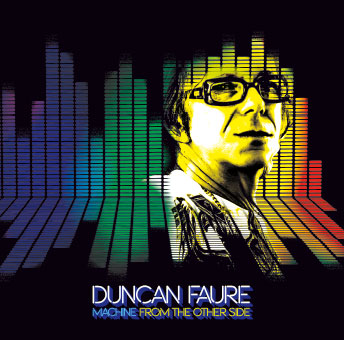 Duncan Faure, front man for the all time number one South African 70's rock band, Rabbitt, and latter day front man for Bay City Rollers, who took the lead vocalist position in 1978, has released a new album May 16, 2014, "Machine from the Other Side."
Consisting of piano and vocal based Lennon/Beatlesque melodies with a tad of Elton John, Duncan has birthed a pleasing collection of tunes as well at a couple of John Lennon covers. A twelve song album of which five I was able to listen to.
1. Billy in the Big Band – I can see Elton and John writing this song together except it wasn't. Duncan was channeling here.
2. Love and Dreamed Wishes - "Across the universe I hear your voice and harmony/still sounds like the first time to me/ and did we ever get to learn the message....in the hands of time just let it be..." an ode to John Lennon's, "Imagine?" Perhaps.
3. Hullo Baby - A tune with electric guitar included, tells the story of a person's lost love. "Hullo baby, I see you've lost your love/ hullo baby I've heard you lost your love"..."what I gotta do is move a mountain/what I gotta do is stop a freight train...."
4. Feels like a Day- "And though the eyes that are closed/ as the years roll away/so quick that is feels as fast as a day" opens this short Old English reminiscent sounding ditty.
5. Tennessee- A cover of John Lennon's unreleased song known from bootleg records.
Full track listing follows:
Billy in the Big Band
Hullo Baby
Imagine
It Was All So Different Then
Love and Dreamed Wishes
Villain of the Peace
Leaves
Machine from the Other Side
Tennessee
Don't Win the Broken Heart
England Doesn't Sleep
So Quick It Feels Like a Day
RELATED LINKS