It was only a year ago at this time that Anthrax was kicking off a massive North American tour with Lamb of God and celebrating the unleashing of their eleventh studio album For All Kings the first studio release from the band with Jonathan Donais on lead guitar, and the second with Joey Belladonna leading the charge as front-man again. And when Feb. 26, 2016 (release day) finally rolled around, fans and critics alike were just blown away by the power and diversity wafting out of their speakers. A twelve song collection able to guide the listener on a hard rocking journey, and yet made up of songs each so well crafted and executed that every single one could stand robustly on its own.
Selling more than 34,000 copies in its first week of release in the U.S. alone, For All Kings entered the Billboard 200 chart at #9, and paved the way for an exceptional year of world-wide touring. While jubilantly observing the 35th anniversary of the band's formation, Anthrax took to the rock and roll highway like the seasoned road-warriors that they are, and brought their fan-favorites new and classic to audiences all over the world. The touring mayhem coasted through most of 2016 and has continued now into the new year as well. Currently decimating stages all over Europe and then beginning in March the band will kick off a co-headlining tour with Killswitch Engage aptly named "KillThrax."
And now, as band and fans alike celebrate the first birthday of the still-new sounding For All Kings, there's even more from this crucial point in time from Anthrax's life and career that we can enjoy with the forthcoming limited edition release of a special For All Kings 7-Inch Box Set. Going on sale Mar. 24, saying that this stunning collector's item is a must-have for Anthrax fans is a massive understatement. Including a removable lenticular cover and ten 7-inch vinyl discs featuring 20 songs, the package includes the original album tracks from For All Kings plus brand new covers of the song "Black Math" from The White Stripes and the Kansas classic tune "Carry On." But that's far from all! There are also six demos from the For All Kings recording sessions, as well as the track "Vice of the People" originally released only in Japan as a bonus track.
What's striking about the demo versions of these songs is there's this odd dichotomy that happens in your brain when listening to the bare, raw versions of songs that you've known for awhile now and grown to love. Initially, it's impressive just how good they are even at their most primal phase, but one wouldn't expect any less from now-master and veteran song writers like Anthrax's Charlie Benante, Scott Ian, and Frank Bello. But then you're also blown away with being able to compare and contrast the original demo versions with the finished products on the album and this too is a testament to what solid song writers and musicians these guys have become, and just as importantly, the worth of a world-class record producer like Jay Ruston. The demo recordings included in the box set are "Breathing Lightning," "Monster At The End," "Suzerain," "Zero Tolerance," "Blood Eagle Wings," and "Defend Avenge," each fascinating to hear sans vocals and at the ground-floor of what was later built up into an stellar collection of new metal songs.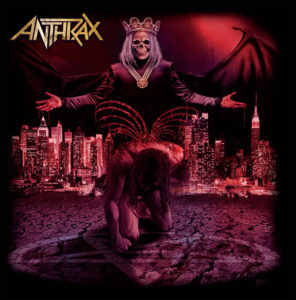 The two covers included in the box set are both gloriously satisfying in their own right. The White Stripes' "Black Math" is a thriving and fun song that can be put on repeat all on its own and music lovers simply will not tire of it. And as far as the Kansas classic "Carry On," this is where Anthrax front-man Joey Belladonna gets to let loose and demonstrate how versatile of a metal crooner he is while wielding sheer vocal power.
And the Japanese-released "Vice of the People" is simply another great new Anthrax song. Wild and dangerous controlled musical chaos, a song that could have easily appeared on For All Kings and fit into the vibe and flow of the album as well as everything else.
A true celebration of the senses, there's some pretty ravishing visuals included in this box set too. The original album cover artwork submitted by artist Alex Ross, and beautiful double-sided four-color graphics to coincide with each 7-inch disc. Featuring the art of Douglas Heusser and Stephen Thompson there are going to be a lot of new Anthrax tattoos inspired by the work included in this set. There are also equally striking band photos by photographer Jimmy Hubbard, and even the discs themselves are rich and vivid, pressed into the colors red, green, blue, maroon, and orange, and most with a two-color swirl design that almost too pretty to play. Almost.
The limited edition For All Kings 7-Inch Box Set will retail for $79.99. The official track listing is as follows:
>Breathing Lightning (album version)
Breathing Lightning (demo)
Monster At The End (demo)
Monster At The End (demo)
Suzerain (demo)
Suzerain (demo)
Black Math (demo)
Carry On (demo)
You Gotta Believe (demo)
For All Kings (demo)
Evil Twin (demo)
This Battle Chose Us (demo)
All Them Thieves (demo)
Vice of the People (previously unreleased in North America)

Zero Tolerance (demo)
Zero Tolerance (demo)
Blood Eagle Wings (demo)
Blood Eagle Wings (demo)
Defend Avenge (demo)
Defend Avenge (demo)
And be sure to catch Anthrax on their "KillThrax" co-headlining tour with Killswitch Engage happening this spring. Go to http://anthrax.com for ticket information.
MARCH
29 The Wellmont Theatre, Montclair, NJ *
30 LC Pavilion, Columbus, OH **
31 Arcada Theatre, St. Charles, IL (Anthrax only)
31 The International, Knoxville, TN (KsE only)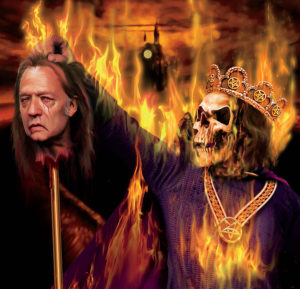 APRIL
1 Little River Casino, Manistee, MI (Anthrax only)
1 Norva, Norfolk, VA (KsE only)
3 The Fillmore, Silver Springs, MD *
4 The Dome, Wallingford, CT *
5 Electric Factory, Philadelphia, PA **
7 20 Monroe Live, Grand Rapids, MI *
8 The Fillmore, Detroit, MI **
9 Stage AE, Pittsburgh, PA *
11 The Ritz, Raleigh, NC **
12 Tabernacle, Atlanta, GA **
13 House of Blues, Orlando, FL *
15 Texas Independence Festival, Austin, TX **
16 Boggus Ford Events Center, Pharr, TX **
17 House of Blues, Houston, TX *
18 House of Blues, Dallas, TX **
20 The Marquee, Phoenix, AZ *
21 Las Rageous, Las Vegas, NV *
22 The Wiltern, Los Angeles, CA **
23 The Fillmore, San Francisco, CA **
25 Showbox SoDo, Seattle, WA *
26 Roseland Theatre, Portland, OR **
28 Fillmore Auditorium, Denver, CO *
29 Sokol Auditorium, Omaha, NE **
30 Midland Theatre, Kansas City, MO *
MAY
1 The Pageant, St. Louis, MO **
3 Danforth Music Hall, Toronto, ON CANADA **
5 Paramount Theatre, Huntington, NY **
6 Upstate Concert Hall, Clifton Park, NY *
7 House of Blues, Boston, MA *
* KsE closes
RELATED LINKS